Answering Customers' Top Requests, Modus VR and Crestron Collaborate to Add Multiple Crestron Products to Fast-Growing Modus VR Product Library
InfoComm, Orlando, FL — October 26, 2021 — Modus VR, leader in the practical application of advanced Virtual Reality software for technology integrators, designers, and architects, today announced the addition of more than 20 popular Crestron products to the Modus VR product library as an initial offering. The solutions span enterprise, unified communications and residential market segments. Visitors to InfoComm 2021 in Orlando, Florida on October 27-29, can experience live use of the immersive Modus VR platform to create room layouts using Crestron products and pretest the viability of their space and technology with advanced accuracy. Delivering the industry's greatest "wow factor" live demonstrations will be available at the Modus VR Booth #3735 and training webinars are planned later this year.
"Crestron products are used by the vast majority of both enterprise and residential Modus VR customers," said Ken Brueck, Founder of Modus VR. "Crestron is recognized as a market leader and has been one of the most requested brands to add to our ever-expanding AV and technology library. We're excited to work closely with them and support our customers and the industry. Collaborating with Crestron also sends a strong message to our customers that we're investing in this sector for the long haul as we continue to focus on the solutions and manufacturers that matter most to our dealers and their clients."
"Modus VR is taking the product specification process to a whole new level with their amazing VR technology" said Bob Bavolacco, Director of Technology Partner Programs for Crestron. "Modus VR provides one of the most effective ways for Crestron dealers to pre-model installations, bring projects to life and reach consensus about even the most complicated projects quickly and efficiently, and Crestron is excited to leverage the benefits of this growing technology."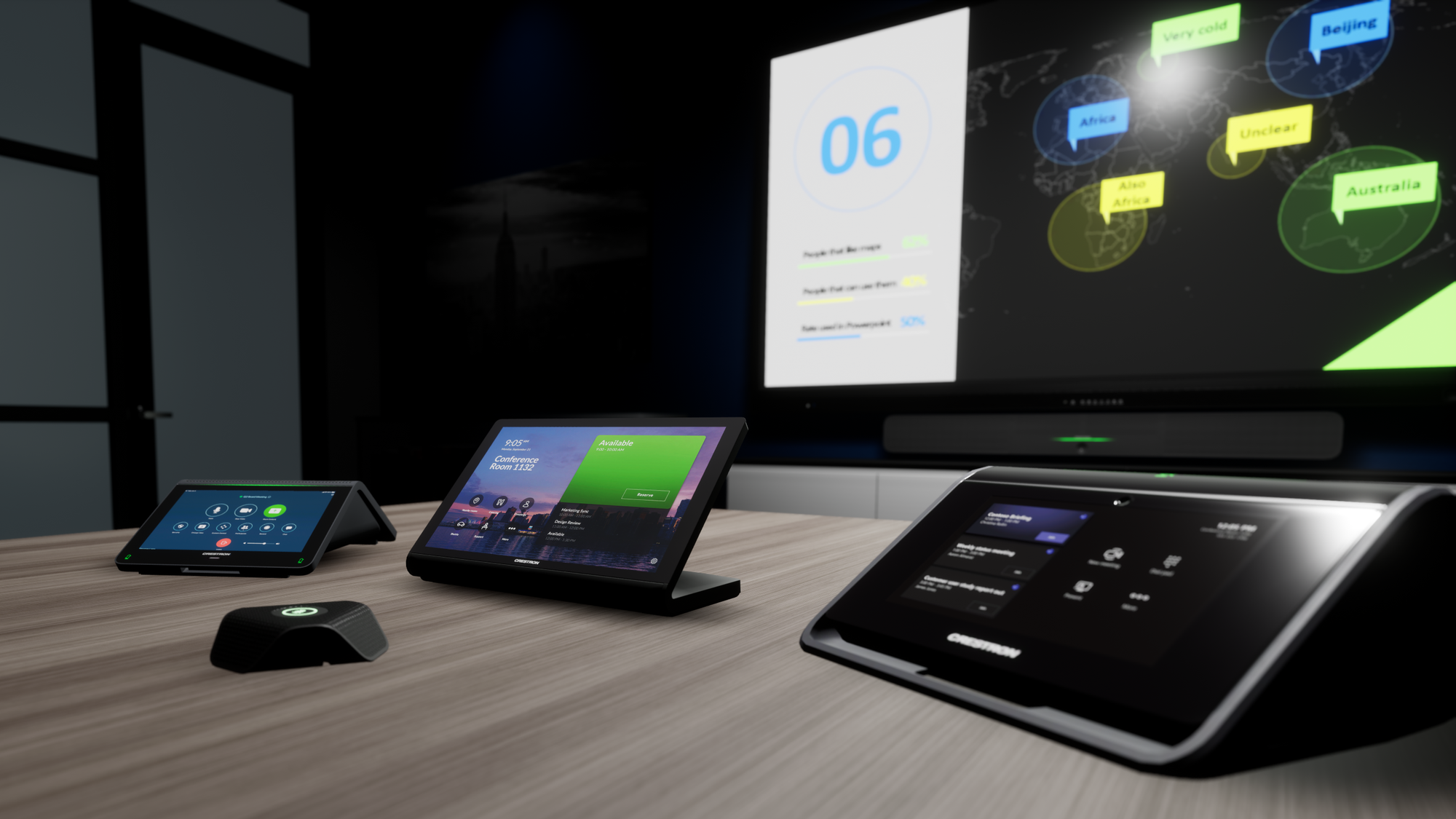 Over the last several months, many Crestron dealers have been asking for solutions through the Modus VR application. Now, users can now see actual Crestron product specifications, such as audio and occupancy sensor projection patterns, so they will quickly know whether a specific solution is right for their needs, thanks to Modus VR.
Bob concluded, "We are looking forward to expanding the solutions offered in the platform to provide dealers all the popular Crestron solutions to maximize their specification process, as well as provide our end-clients the absolute perfect solution for their needs."
Modus VR subscriptions include unlimited use, training and support for the entire suite of Modus Products. Frequent updates to the platform are included with every license and are easily upgraded through the Modus VR Launcher. Using innovative Modus VR technology and consumer-grade VR headsets, integrators and space-planning stakeholders can pretest physical equipment/furniture configurations, demonstrate layouts in true scale, and attain consensus for greater satisfaction and faster decision making. Modus VR suite also offers a full portfolio of design tools including remote design sessions without VR equipment, Modus Docs to rapidly generate professional line drawings, Modus Photo for high quality renders, and Modus 360 for online viewing of 3D spaces anywhere in the world.
Visit Modus VR at Booth #3735 during InfoComm 2021. Editors are invited to schedule a live demonstration and interview with Modus VR Founder Ken Brueck using press contacts below.
About Modus VR Modus VR technology empowers designers, architects, A/V integrators and space planners to create and optimize rooms in real time with all A/V and technology equipment, furniture and other objects. Using Modus VR's revolutionary software platform, users can simply select products or load physical product specifications and layout of a workspace to try different options in seconds, and make the best use of the space, technology and people. Modus VR software includes an ever-growing library of popular electronic equipment and furnishings that can be expanded by inputting parameters of components. Create, rearrange, design and finalize layouts at the speed of light with full collaboration of all stakeholders. Decisions are made in real-time with full visuals instead of anguishing over multiple paper plans, reviews and changes. Modus VR offers a full suite of design tools for designing in both with and without the full VR experience. Unlimited support, including remote in-VR support, is included with the platform subscription. Based in Draper, Utah, Modus VR provides the most advanced VR and visual experience for commercial and residential projects in the most engaging, intuitive way that's fast to apply and backed by superior customer service.
About Crestron Crestron is a global leader in workplace technologies, engineering and transforming corporate automation and unified communication (UC) solutions for enterprise organizations across Fortune 500 corporations, campuses, facilities, and more, as well as a premium home automation provider who creates platforms, devices, and systems across residential properties including homes, yachts, MDUs, and hotels. For almost 50 years, Crestron has been designing software and hardware solutions across government, military, lecture halls, and boardrooms, as well as the most discerning residential properties around the globe. As technology has become omnipresent in both work and home lives, Crestron is charting the future of digital transformation for commercial and residential applications by identifying and manufacturing solutions that strengthen collaboration, productivity, and innovation, while reflecting the lifestyles, comforts, and relationships that keep people connected, from anywhere, at any time. Crestron products are backed by more than 90 fully-staffed offices that provide 24 x 7 x 365 sales, technical, and training support across the globe. In addition to its world headquarters in Rockleigh, New Jersey, Crestron has sales and support offices throughout the U.S., Canada, Europe, Asia, Latin America, and Australia. Discover Crestron at crestron.com
---
©2021, Modus VR. All rights reserved. Other brand names and product names mentioned herein may be the trademarks, trade names, service marks or registered trademarks of their respective owners.
---
Press Contacts
Cat Toomey
President and CEO, CATalyzing Communications
317.514.5546
cat@catalyzingcomm.com