This entire release is dedicated to a ground-up rewrite of the Modus launcher. The new launcher is faster, more flexible, and provides a necessary foundation for future features. It's not just prettier—it also comes with an upgraded floor plan editor, a newly-enhanced workflow for exporting line drawings, and a brand new application called Modus Photo.
Three of the new features in the Modus launcher have blog posts of their own: The upgraded floor plan editor, the new line drawings, and Modus Photo. Be sure to check out each of them as they contain pertinent information and brand new tutorial videos.
We thank each of you for your support and hope you enjoy all the new features.
Major New Feature: Modus Launcher
Here's a first look at the all new Modus Launcher.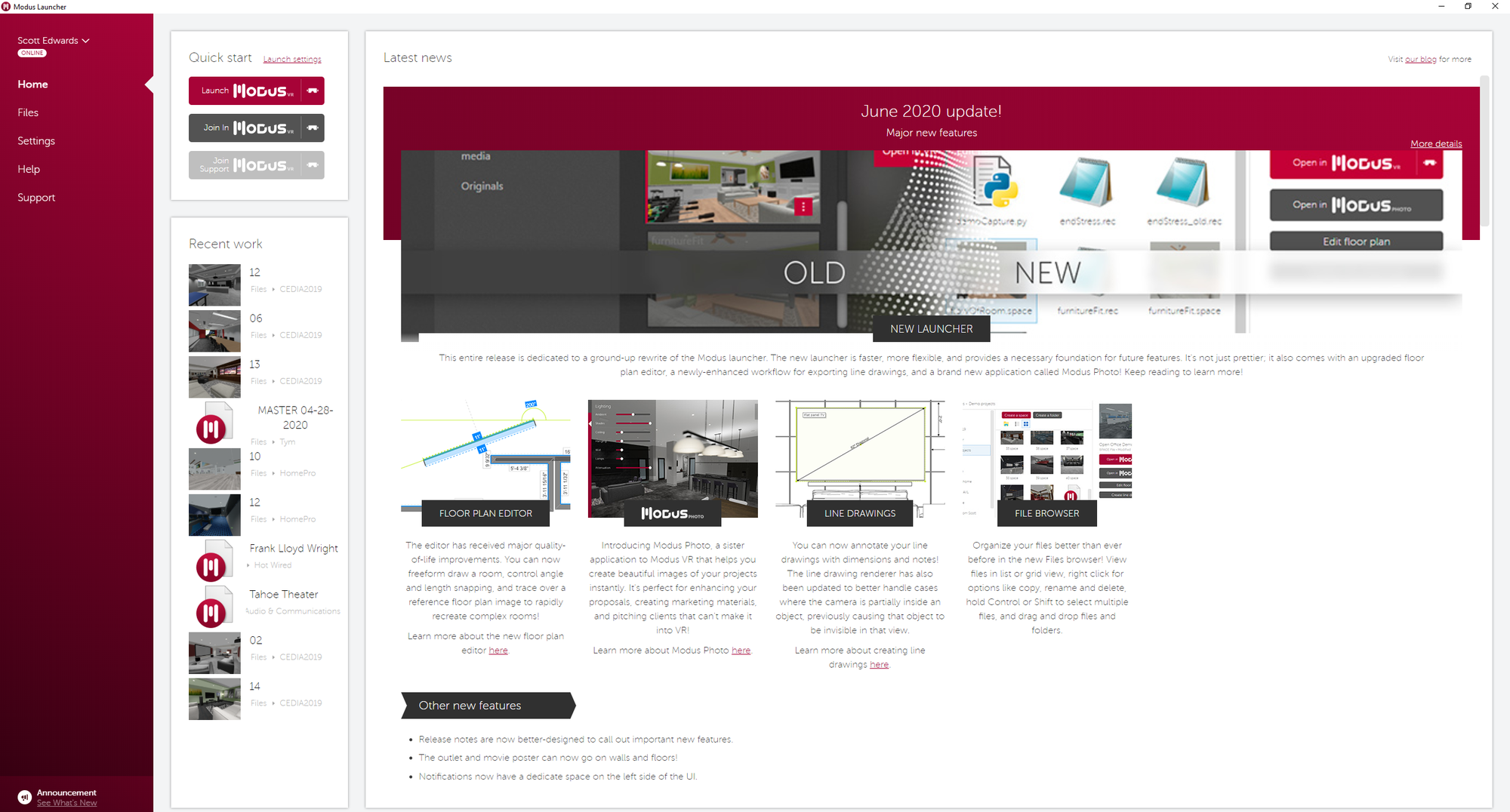 NEW MODUS LAUNCHER
Because so much of this is new, we've created several new Modus launcher videos. One of them is a high-level overview of the launcher including some of the redesigned sections in the Home tab, the new Files tab, and the new Help tab. Check it out below.
Major New Feature: Files Tab
Organize your files better than ever before in the new Files browser. View files in list or grid view, right click for options like copy, rename and delete, hold Control or Shift to select multiple files, and drag and drop files and folders. We cover the entire Files tab in our Modus launcher overview video posted above.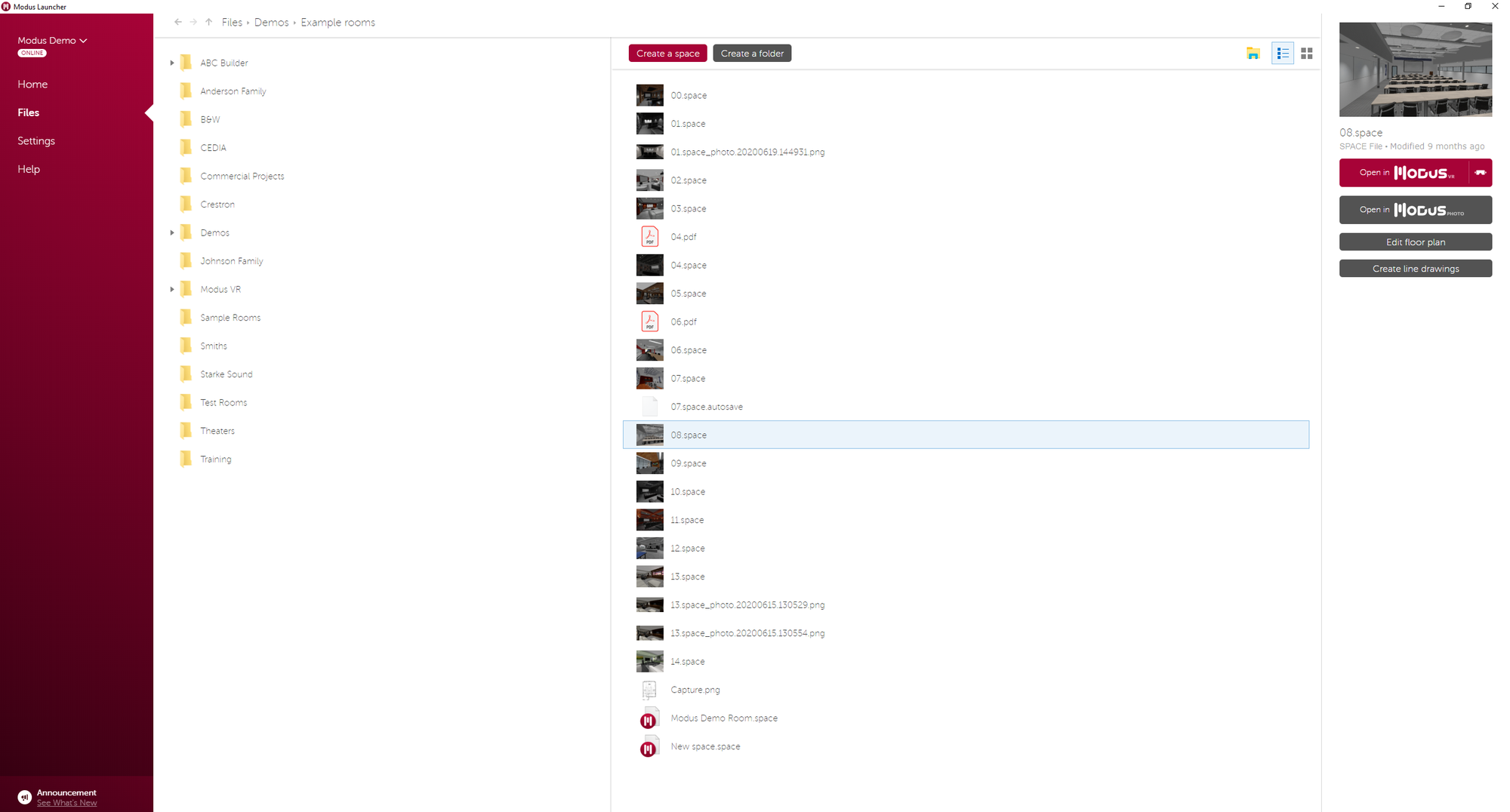 NEW FILES TAB
Major New Feature: Improved Floor Plan Editor
The editor has received major quality-of-life improvements. You can now free-form draw a room, control angle and length snapping, and trace over a reference floor plan image to rapidly recreate complex rooms!
Learn more about the new floor plan editor here.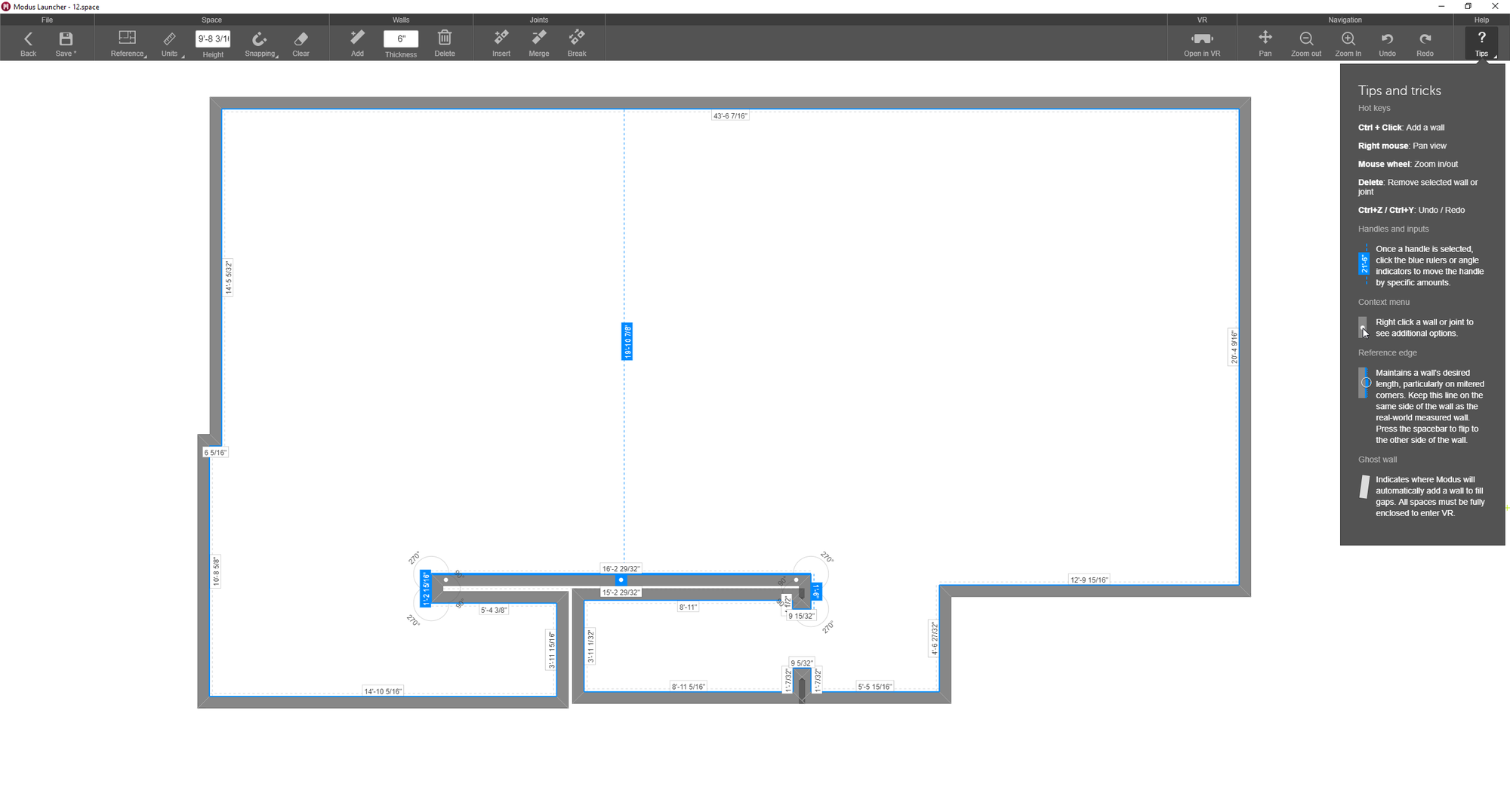 UPDATED FLOOR PLAN EDITOR
Major New Feature: Line Drawings
You can now annotate your line drawings with dimensions and notes. The line drawing renderer has also been updated to better handle cases where the camera is partially inside an object, previously causing that object to be invisible in that view.
Learn more about creating line drawings here.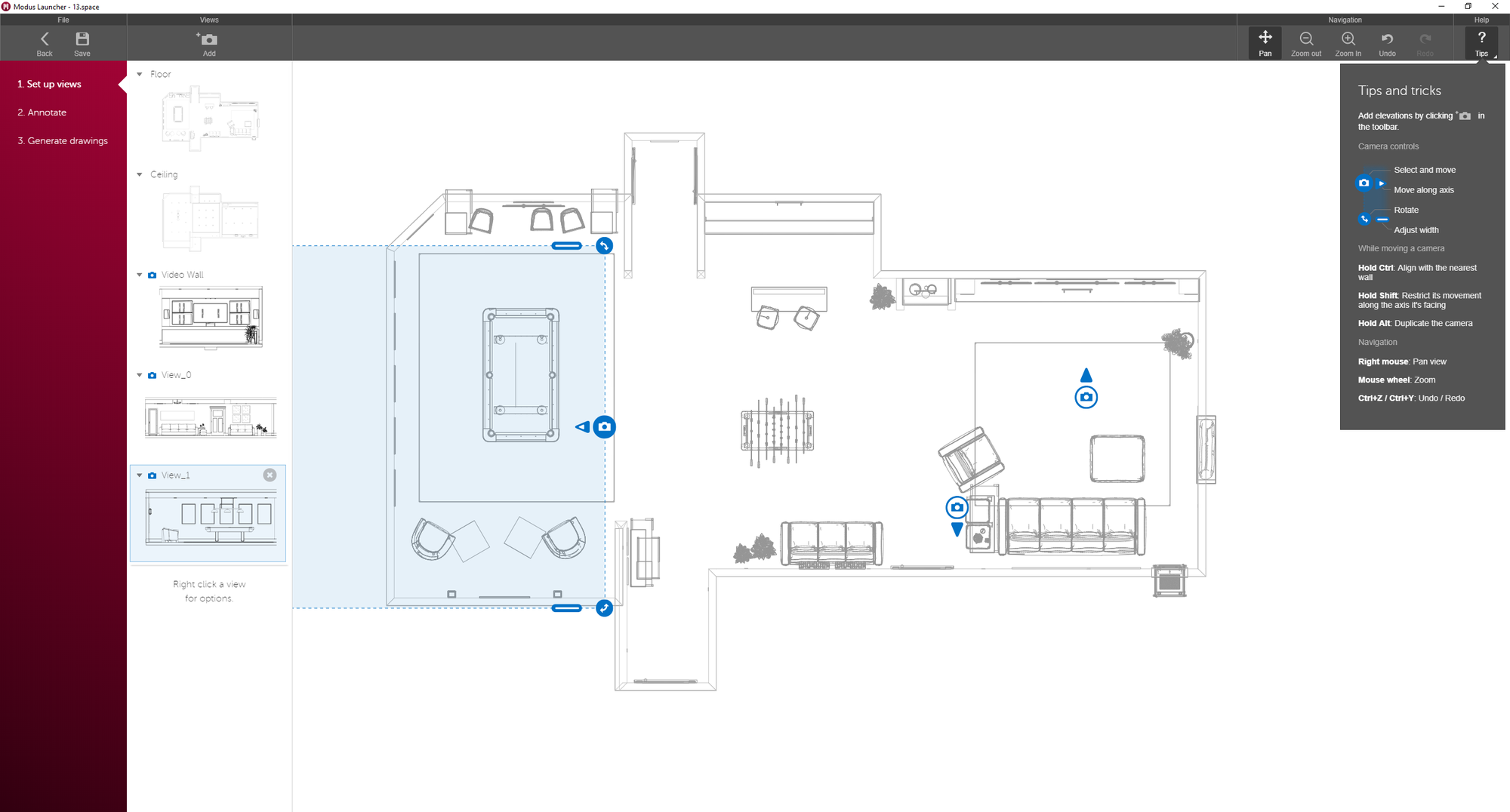 ENHANCED LINE DRAWINGS
Major New Feature: Modus Photo
Introducing Modus Photo, a sister application to Modus VR that helps you create beautiful images of your projects instantly. It's perfect for enhancing your proposals, creating marketing materials, and pitching clients that can't make it into VR!
Learn more about Modus Photo post here.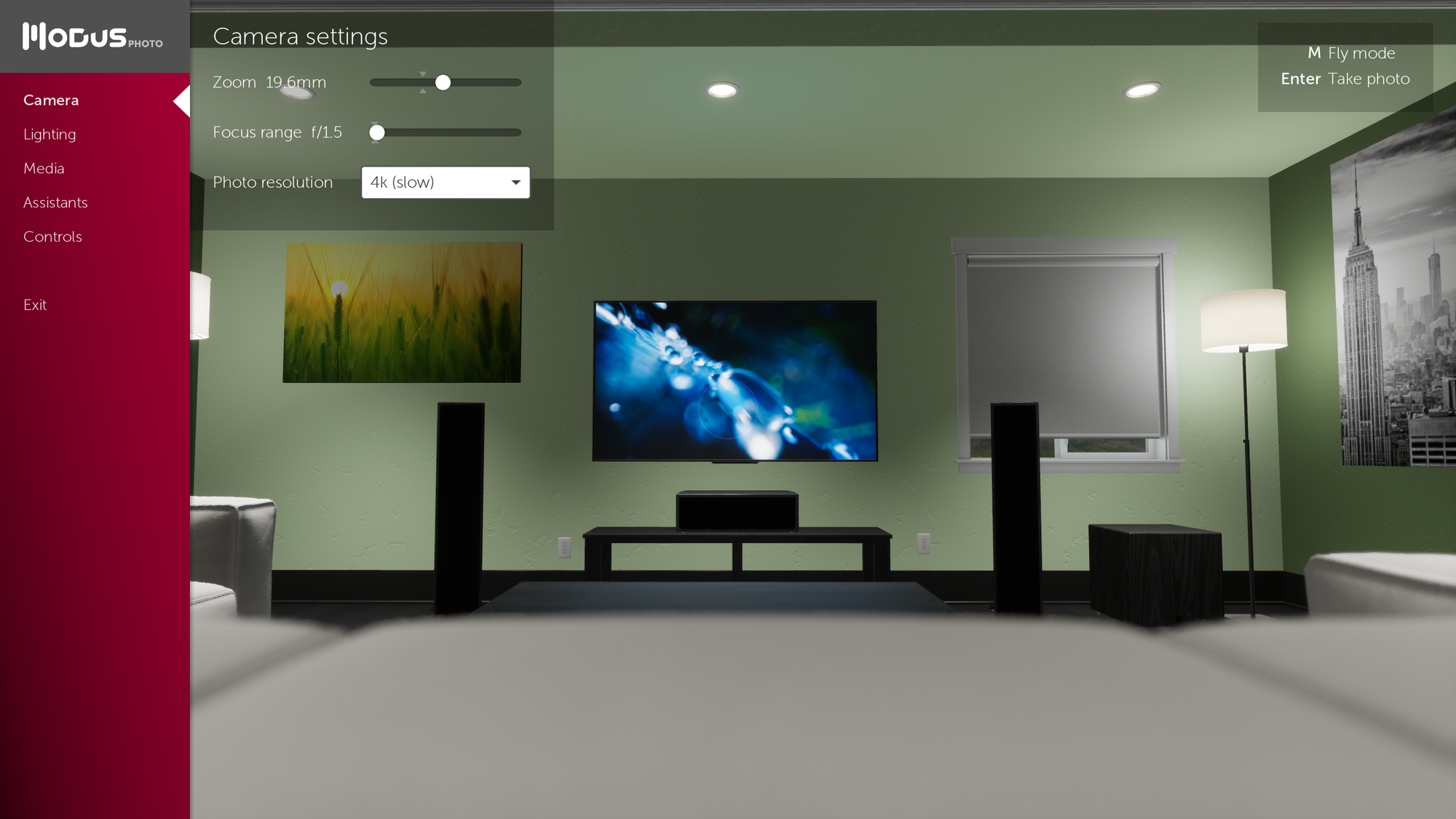 MODUS PHOTO
Other New Features
Release notes are now better-designed to call out important new features.
The outlet and move poster can now go on walls and floors.
Notifications now have a dedicated space on the left side of the UI.
The bean bag chair's height can now be changed independent of the diameter.
Many quality-of-life enhancements and fixes scattered throughout the launcher.
Bug Fixes
Fixed line drawing issues with the Cineak Grammercy, Cinematech Valentino, and Procella speakers.
Fixed the drop ceiling LED light being rotated in CAD export. Space files with this object in them will need to be opened and saved in VR before exporting.
Fixed the round end table showing up as a block in CAD export. Space files with this object in them will need to be opened and saved in VR before exporting.