In this release we are excited to welcome Episode and Poly to Modus VR. We've added several of their products along with lots more products from Crestron, Vicoustic, and Starke Sound. We've also added additional light fixtures to give you more design options.
Also in this release we introduce the new Reverberation Teaching Assistant that will help you better educate clients and open the door to more selling opportunities. Not to mention it's a fun tool to play with.
Keep reading to find out everything that's new!
New: Reverberation Teaching Assistant
The Reverberation Teaching Assistant helps educate clients on the basics of reverb and opens the door to more acoustic treatment selling opportunities. We've dedicated an entire blog post that goes into depth on its benefits, how it works, and how to demonstrate it to a client. It's a fun and easy way to talk about acoustics during the sales process. You can find the post here.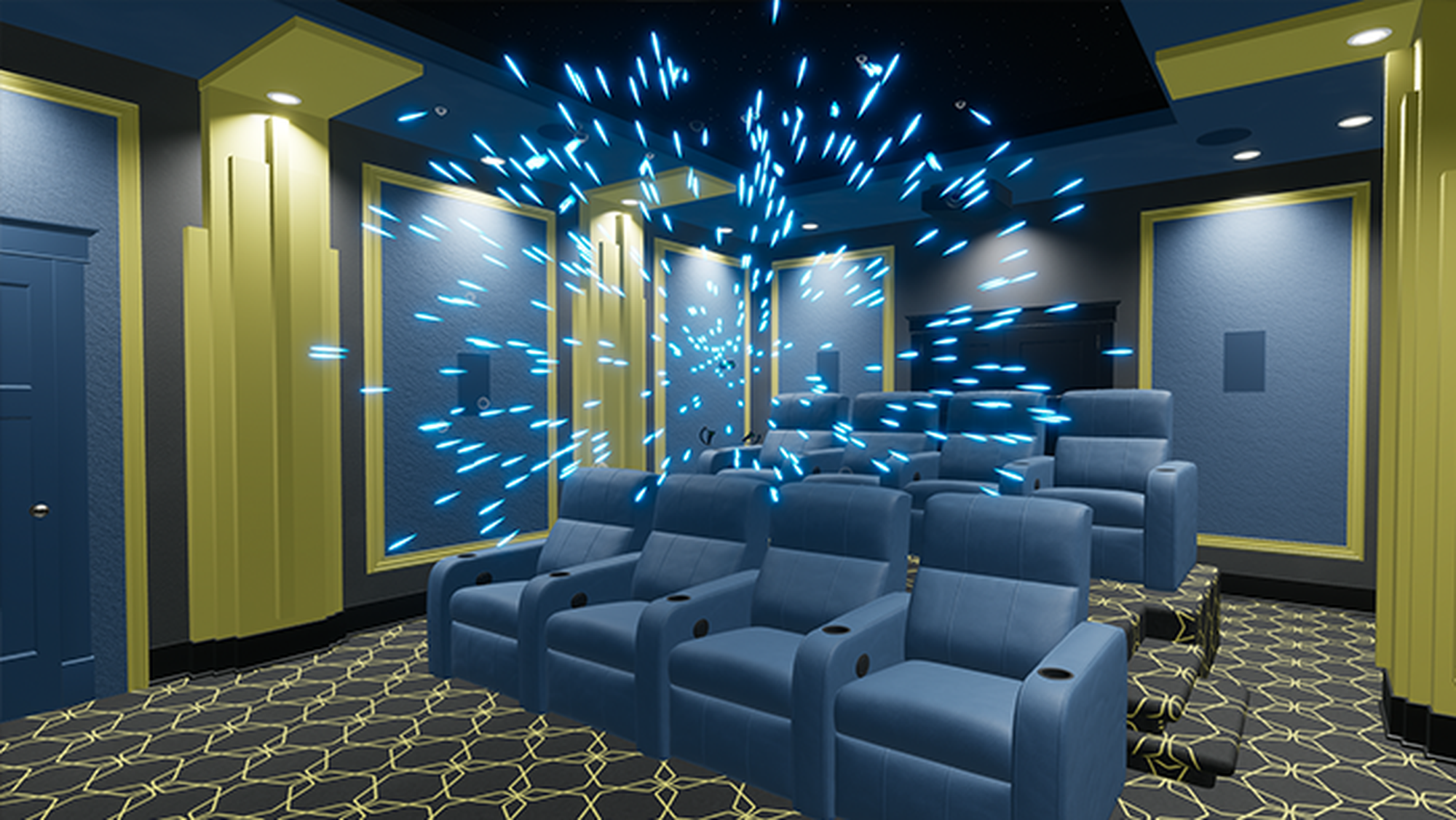 REVERB TEACHING ASSISTANT — ROOM DESIGNED BY TYM SMART HOMES & HOME THEATERS
New: More Light Fixtures
More light fixtures means more design options for your projects! You can find them in the reorganized lighting tab of the library. In addition, you can now change the glass color on the existing modern sconce.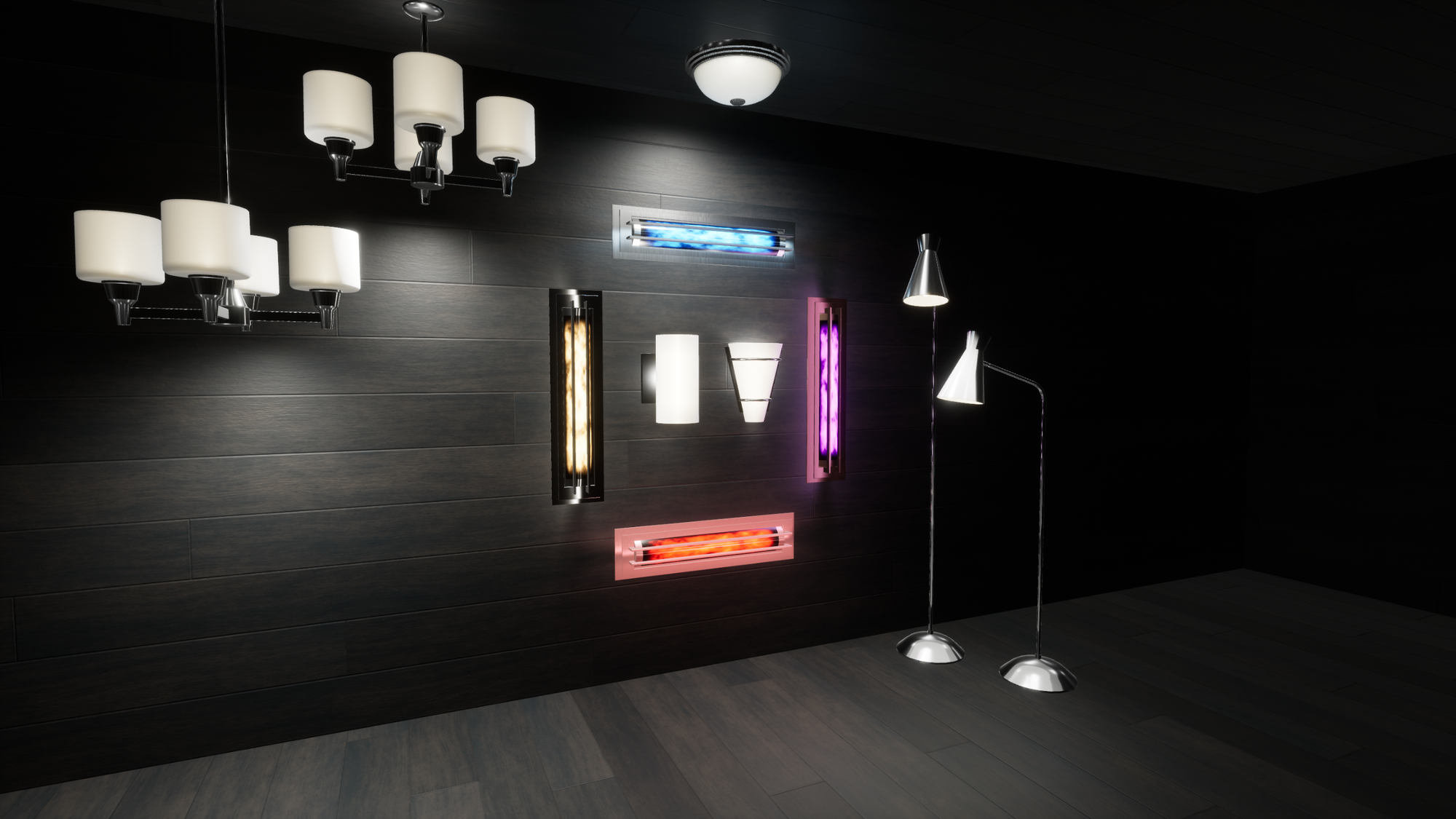 LIGHT FIXTURES
New: Library Organization
Our library has expanded to the point that we needed some new organization. We've given Speakers their own category and further organized the Lighting tab.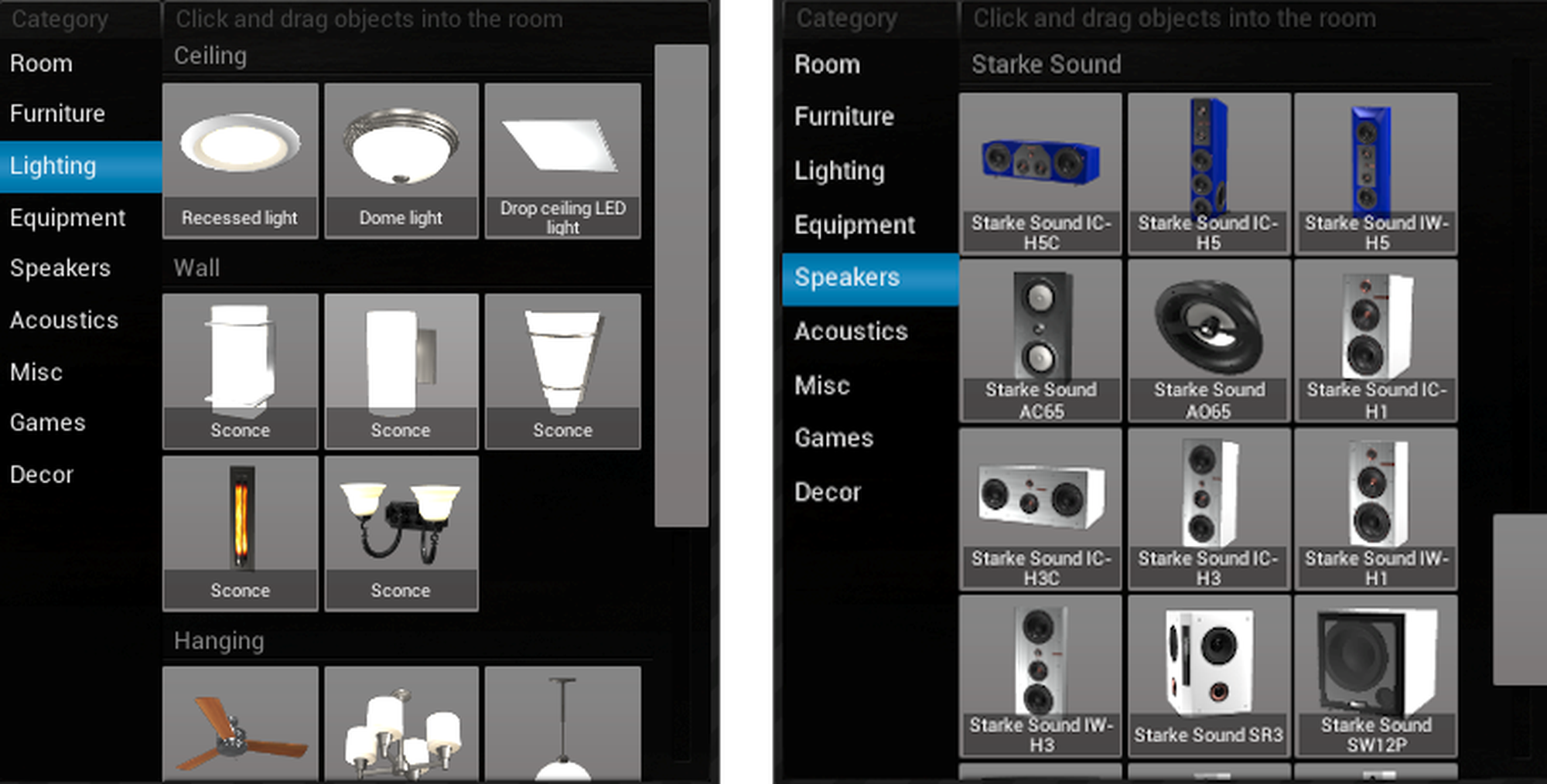 LIBRARY ORGANIZATION
New: Episode
We've added the All-Weather Series Surface Mount speaker. You can change sizes and even tilt the speaker in a specific direction in the properties tab of the menu. When you tilt the speaker, it will aim wherever you are at in room. It will also stay aimed at that location even when you move it around.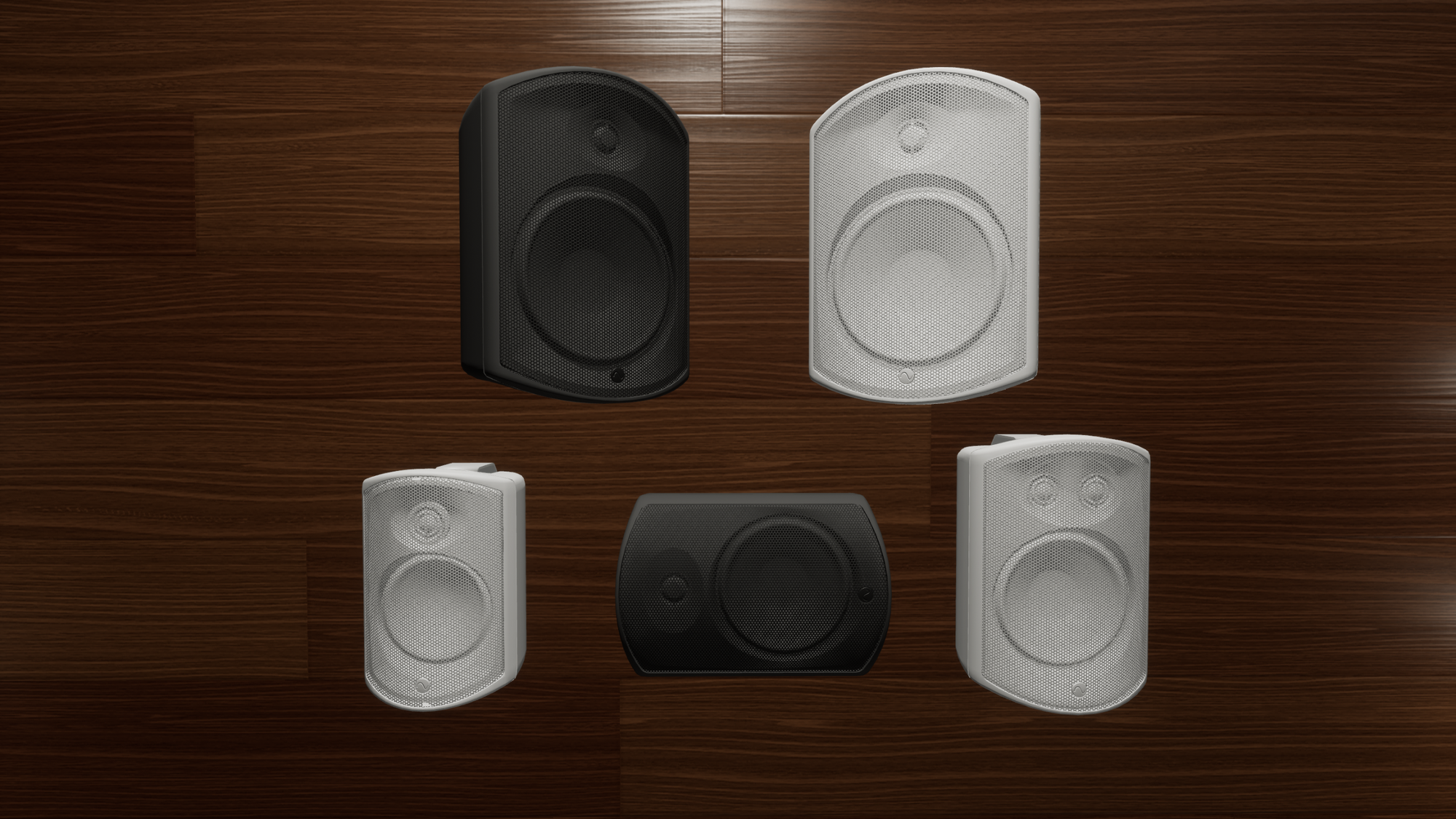 ALL-WEATHER SERIES SURFACE MOUNT
New: Poly
We've added the Poly TC8, X30, and X50 to the equipment tab in the library. The X30 and X50 both have microphone pickup pattern visualizations that can be shown and changed in the properties tab. These visualizations are a great way to help educate clients on room coverage.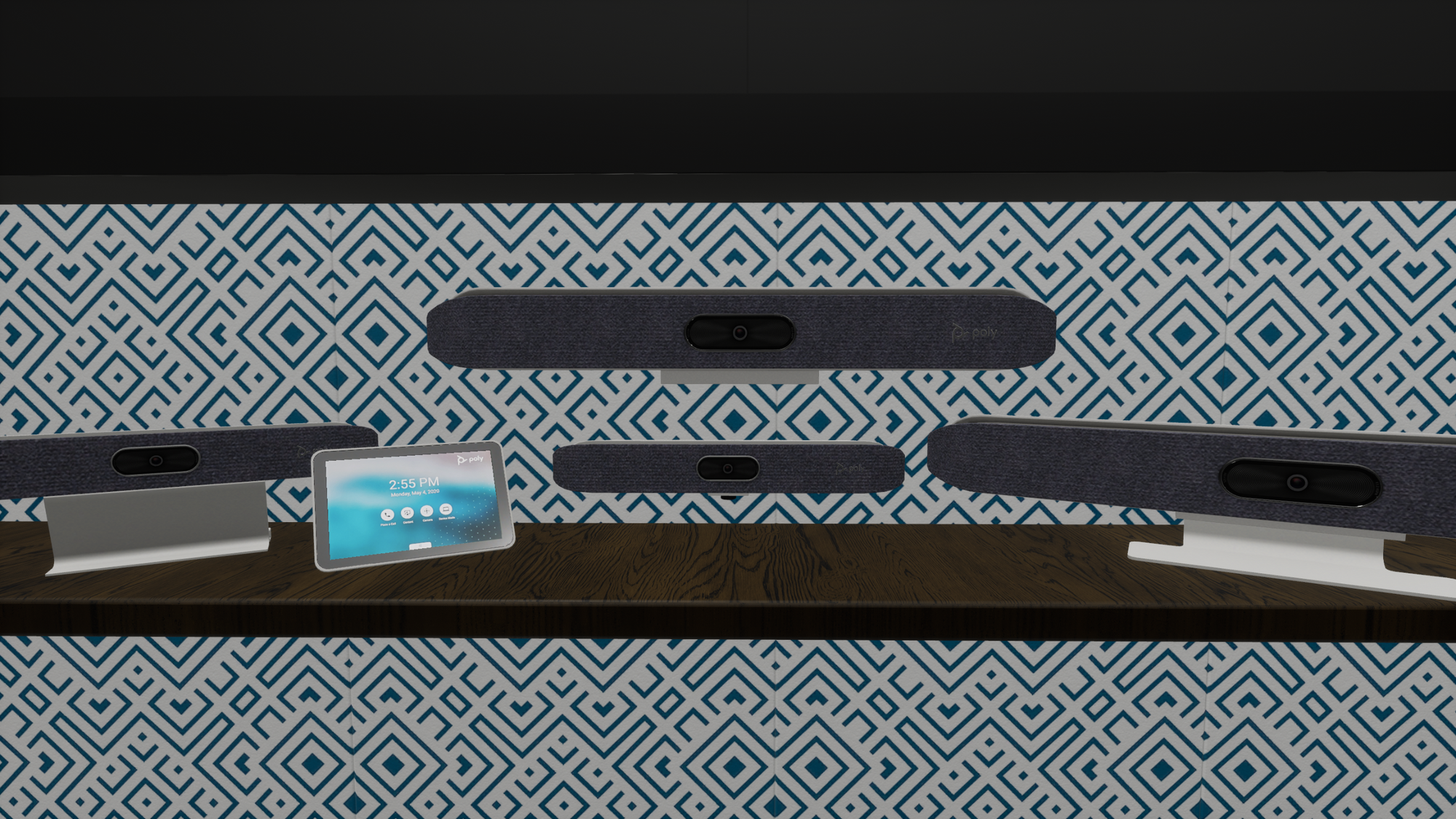 POLY TC8, X30, AND X50

PROPERTIES TAB FOR THE POLY X30 AND X50. WHEN THE PICKUP PATTERN IS SET TO HIDE, THE PICKUP RANGE SLIDER WILL BE DISABLED.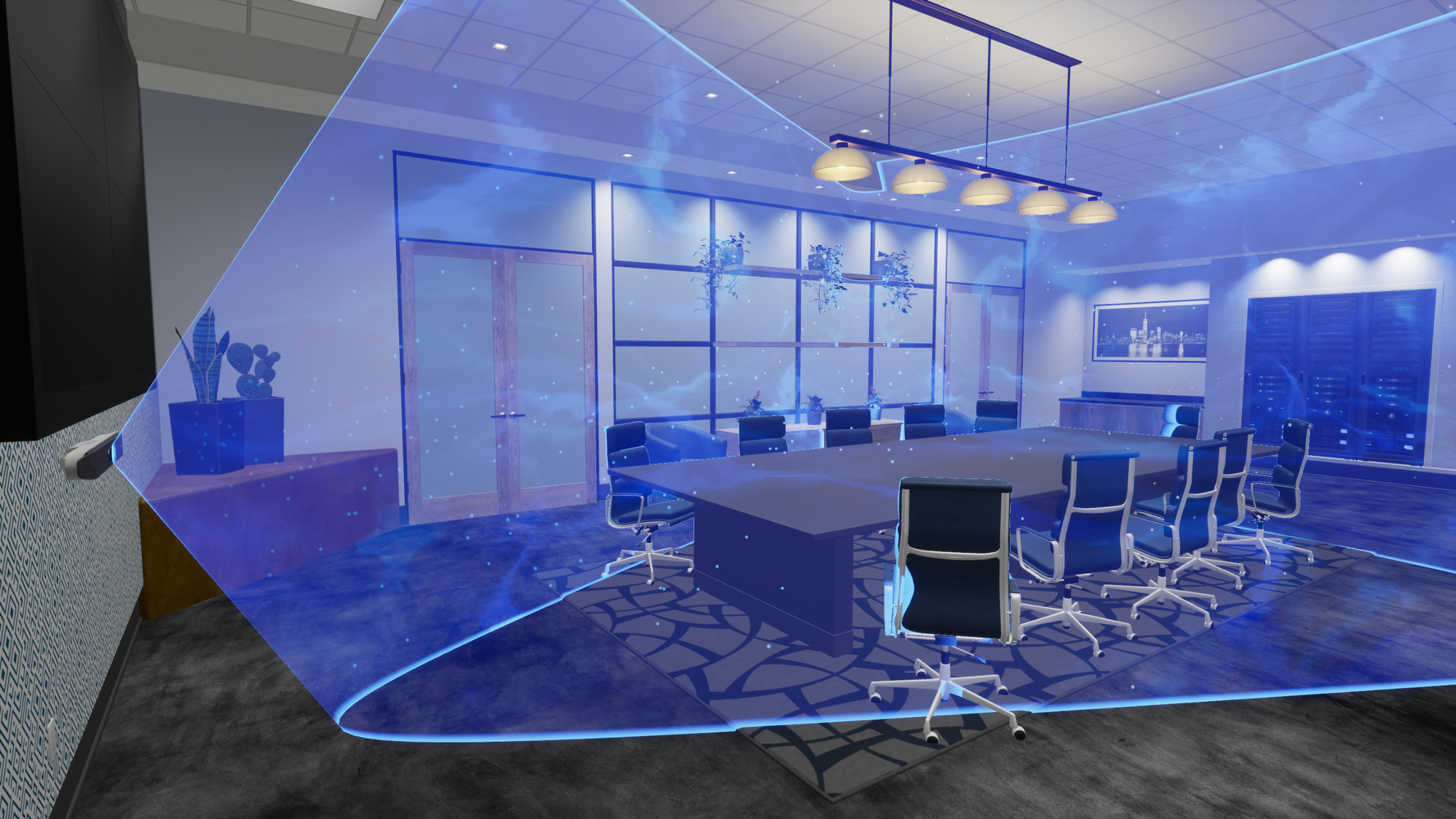 POLY X50 MICROPHONE PICKUP PATTERN
New: More Starke Sound
We've added a slew of new Starke Sound products. These products sound amazing and look incredible. For this release we've added the IC-H1, IC-H3, IC-H3, IW-H1, IW-H3, VB61, V62, V64, VC62, VC64, VS61, VS62, VS64, SR3, SW12P, and SUB36. Each of them have materials and/or color options. Also, a few of them have unique toggles in the properties tab. For the IW-H1 and IW-H3 you'll find an in-wall or on-wall toggle. The IC-H3 has a stand or floor option and the SR3 and AC65 have an option to toggle the grill.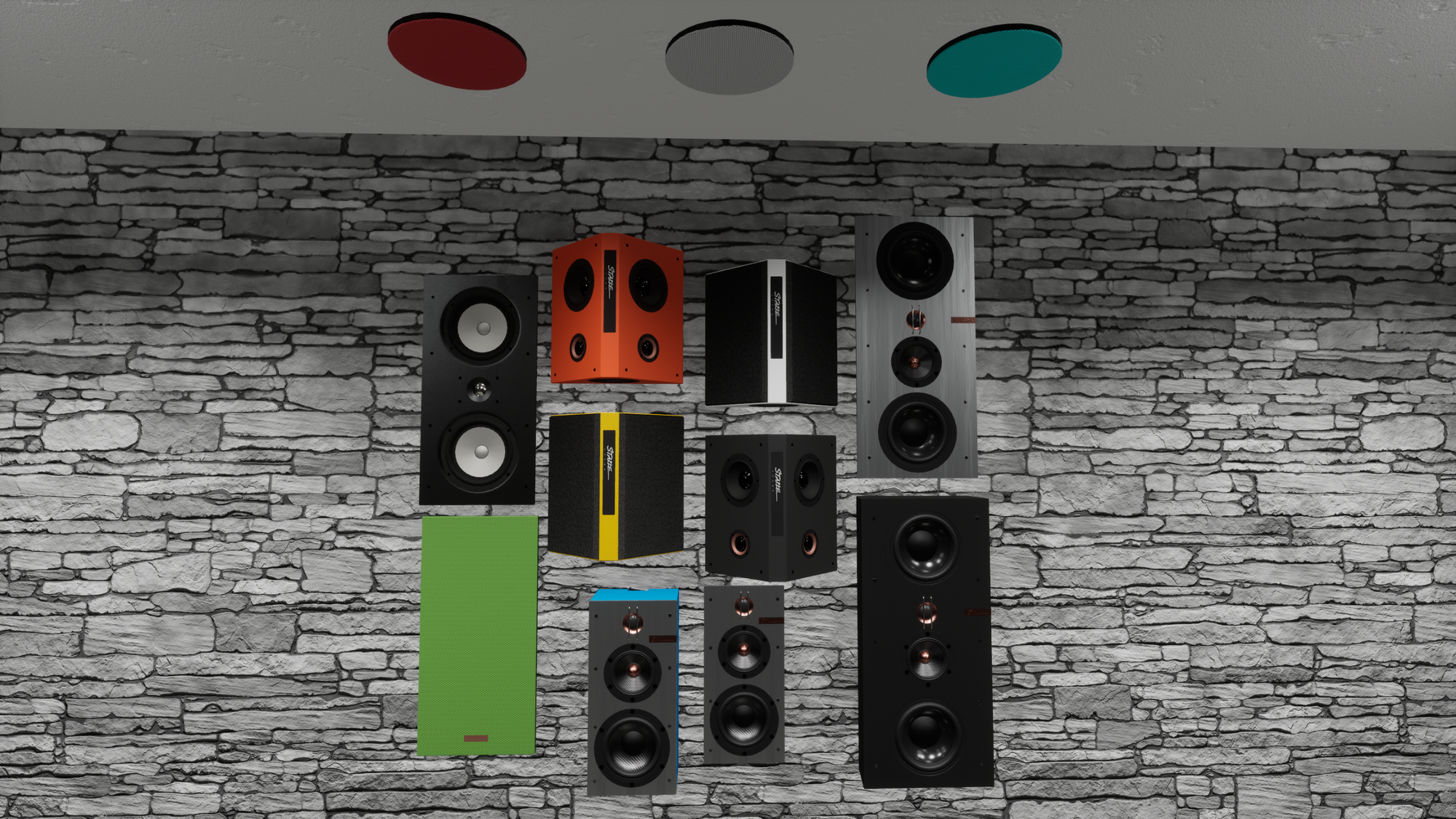 AO65, AC65, SR3, IW-H1, IW-H3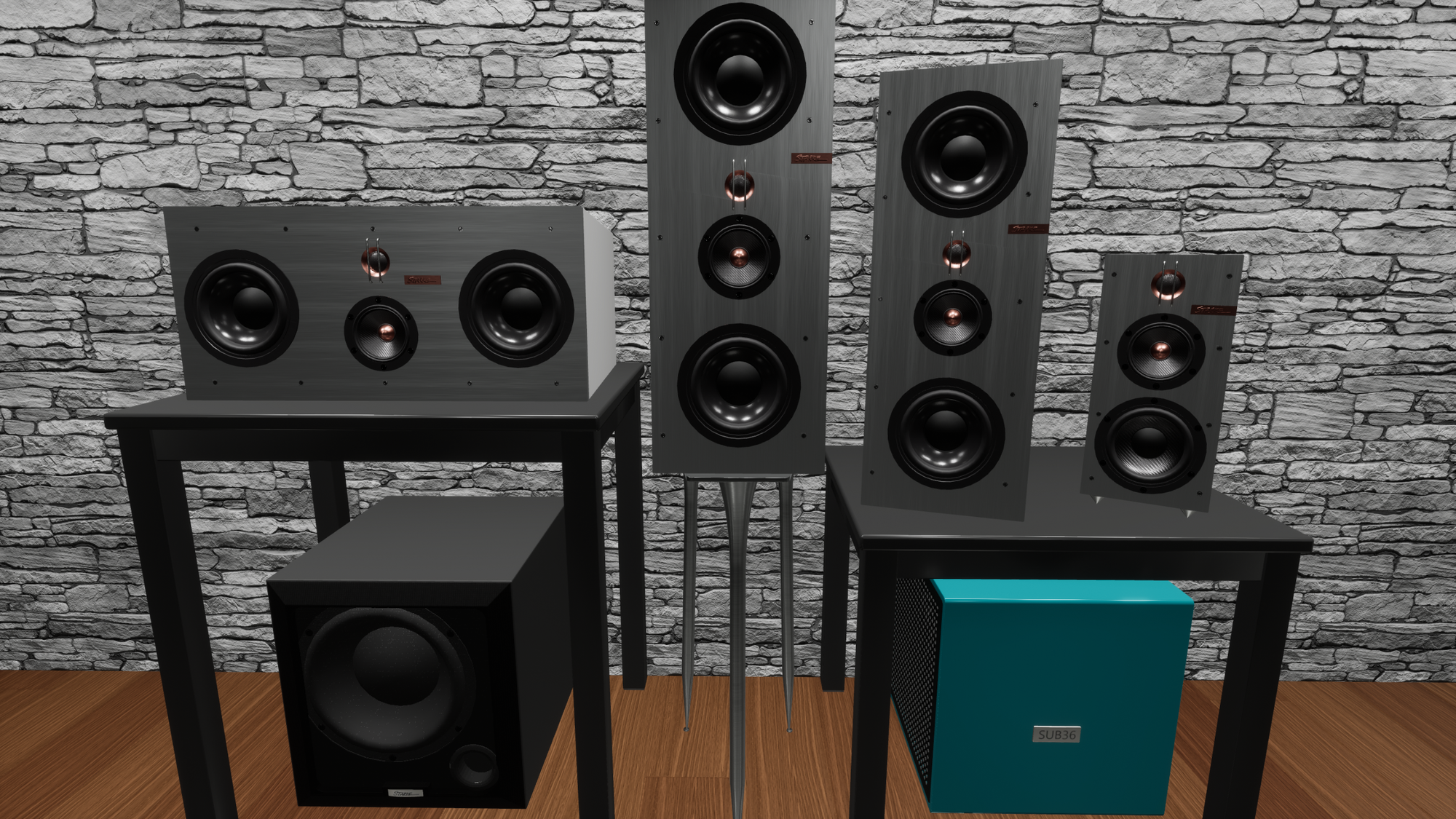 IC-H3C, IC-H3, IC-H1, SW12P, SUB 36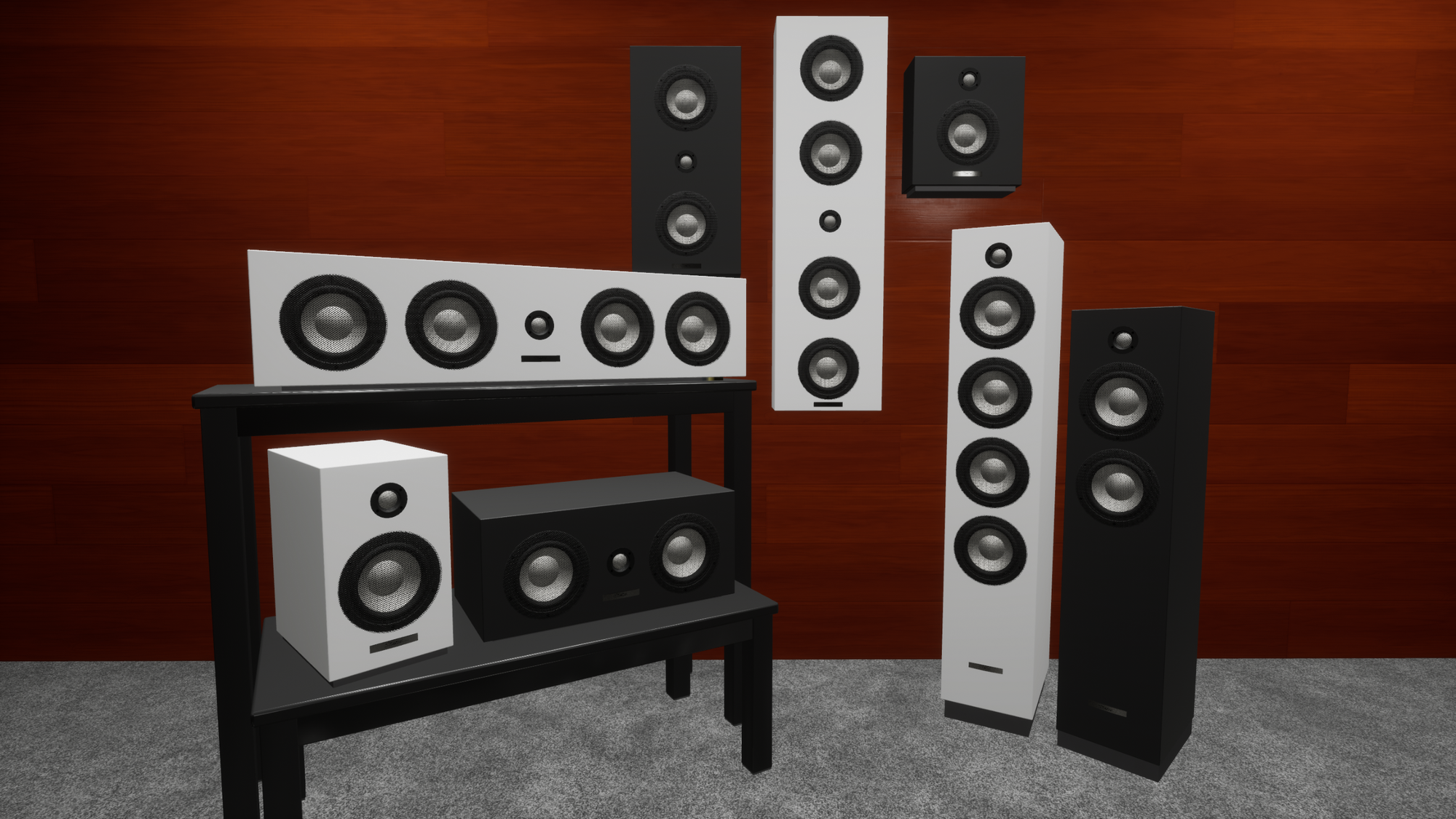 VB61, V62, V64, VC62, VC64, VS61, VS64
New: More Vicoustic
We've added the Vari Bass Ultra, Trap Fuser, Super Bass Extreme Ultra, Vic Wallpaper, Vicpattern Ultra, and the Wavewood Diffuser Ultra. Each of these have different material options to choose from and the Vicpattern Ultra and Vic Wallpaper also have different patterns you can choose from in the properties tab.
Note: If you haven't noticed already, many of these objects "tile". Meaning you can simply stretch the object to add panels rather than having to spawn each one individually from the library.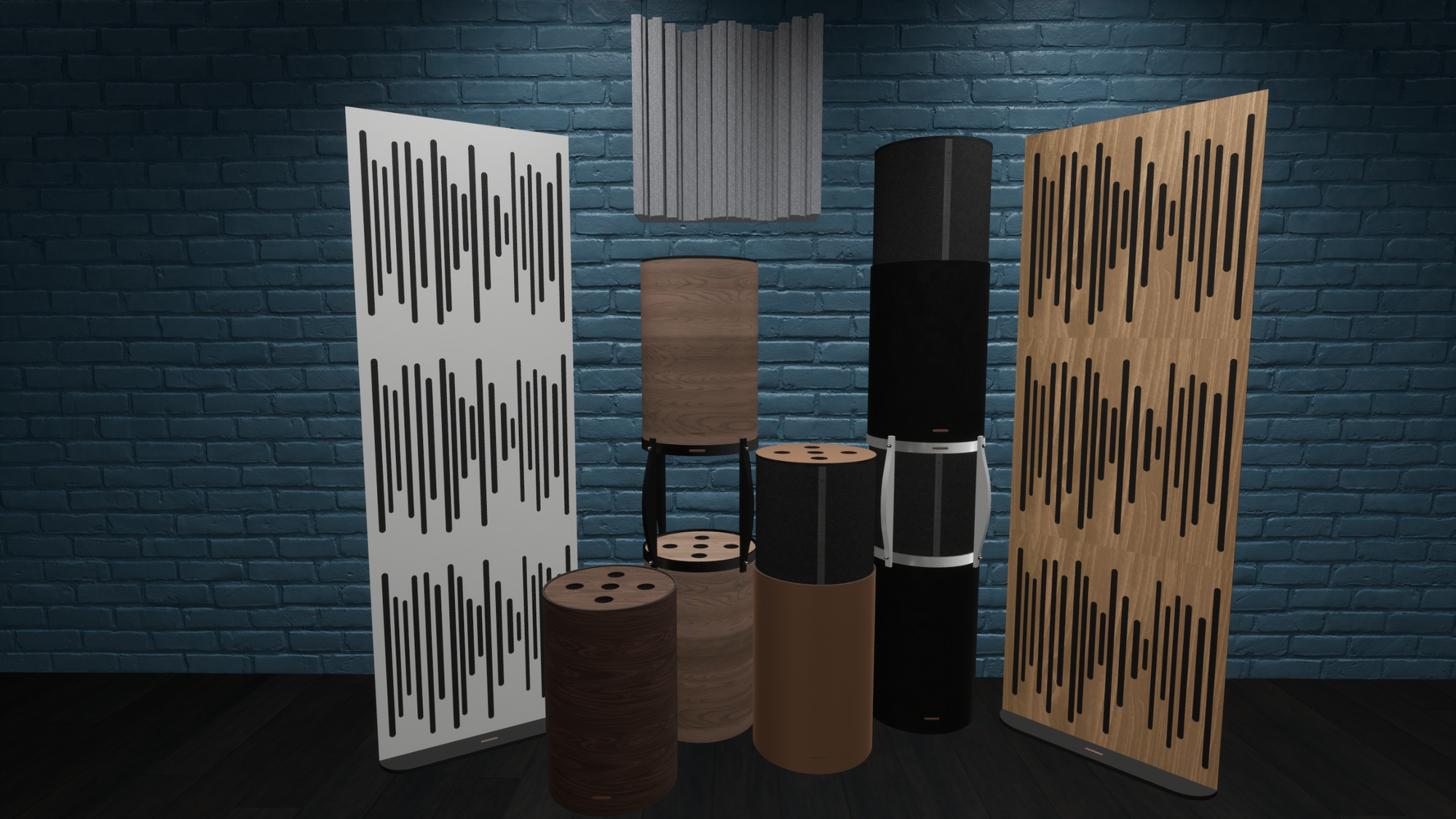 SUPER BASS EXTREME ULTRA, VARI BASS ULTRA, TRAP FUSER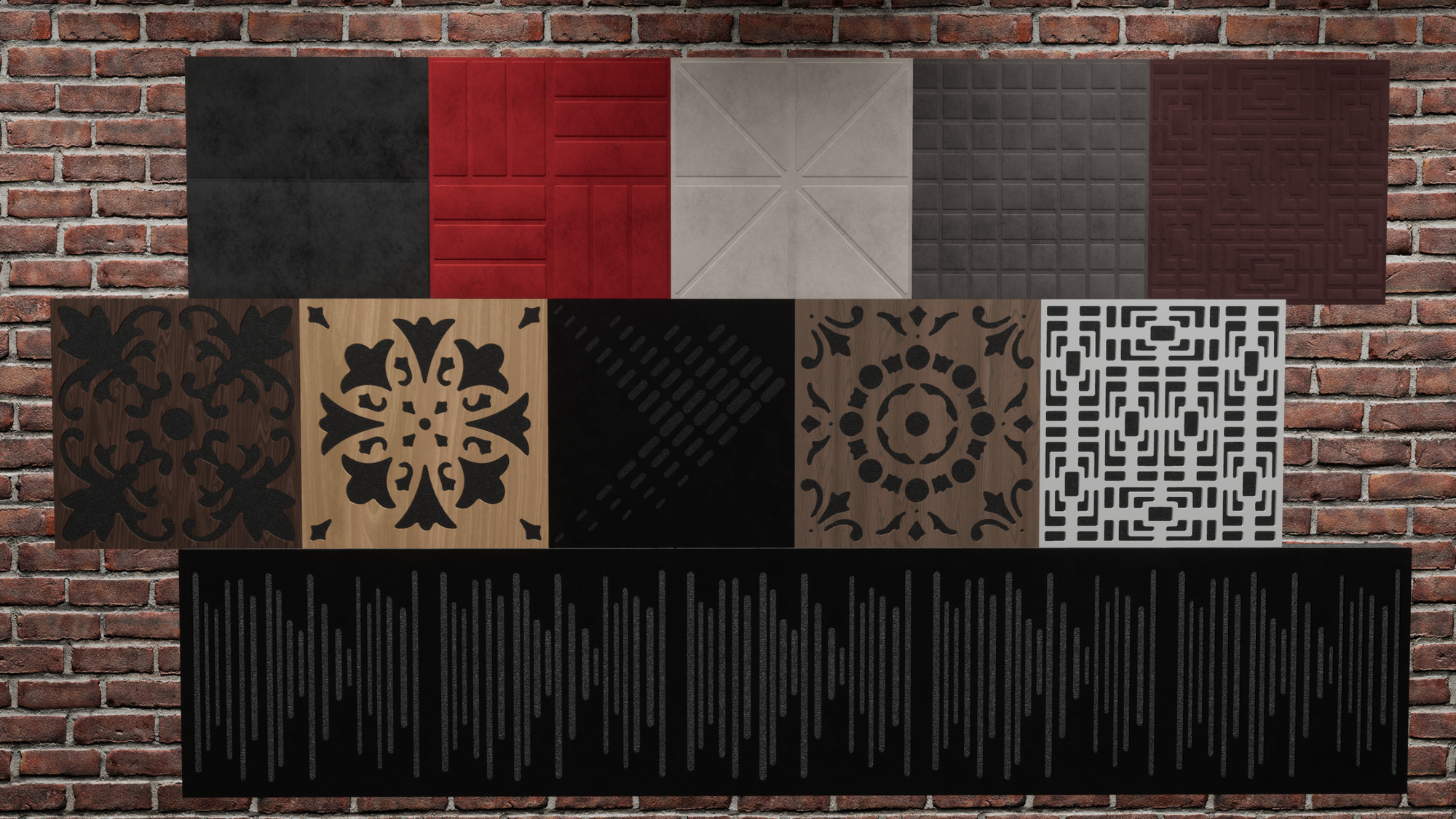 VIC WALLPAPER, VICPATTERN ULTRA, WAVEWOOD DIFFUSER ULTRA
New: More Crestron
We've added the FT2 series. The object is found in towards the bottom of the equipment category. In the library it's one object, but you can switch between the different models, FT2-202, FT2-500, FT2-700, FT2-1200, and FT2-1400, in the properties tab of the menu.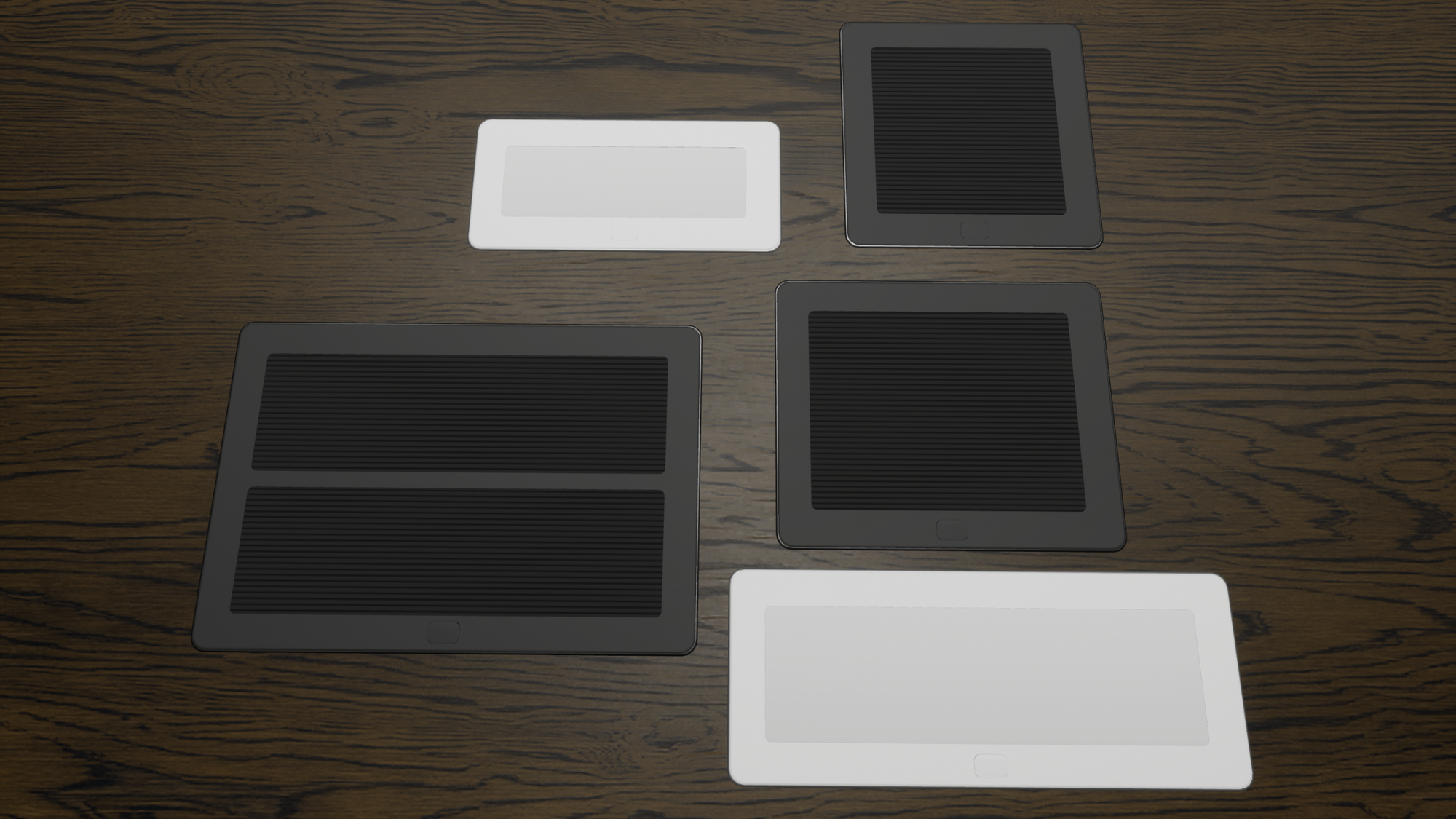 CRESTRON FT2 SERIES
Expert Tip : Object Attachment and Duplication
Every object in Modus VR has "attachment" properties. For example, if you place a seat on a riser you can move the riser and the seat moves with it. If you duplicate the riser, the seat will also be duplicated. This can be used to your advantage. Let's look at another example. Take this coffer with perfectly placed recessed lights. Instead of taking the time to recreate and replace each of these lights on a new coffer, you can simply duplicate the coffer which will automatically duplicate any objects attached to it. In this case the 6 recessed lights. Try it out next time you're in Modus VR and see how it can help!

ATTACHMENT AND DUPLICATION
Fixes
Fixed broken link to tutorials in the launcher
Fixed chestnut material having the wrong thumbnail
B&W speakers didn't show up correctly in CAD export
2″ round recessed light would sometimes sink into ceiling
Adjusted the Shure MXA910 so it no longer sits flush with the ceiling, representing the changes required from ClearOne's lawsuit