Introducing the Reverberation Teaching Assistant. This article will discuss how this Teaching Assistant works and provide tips on demonstrating it with your clients.
Introduction
This visualization was designed with several goals in mind:
Help clients understand that sound bounces—a lot!
Open the conversation to selling acoustic treatment, or at least sharing best practices for maximizing performance from audio equipment.
Reinforce your company's technical expertise. Give clients a memorable and fun experience they'll share with others.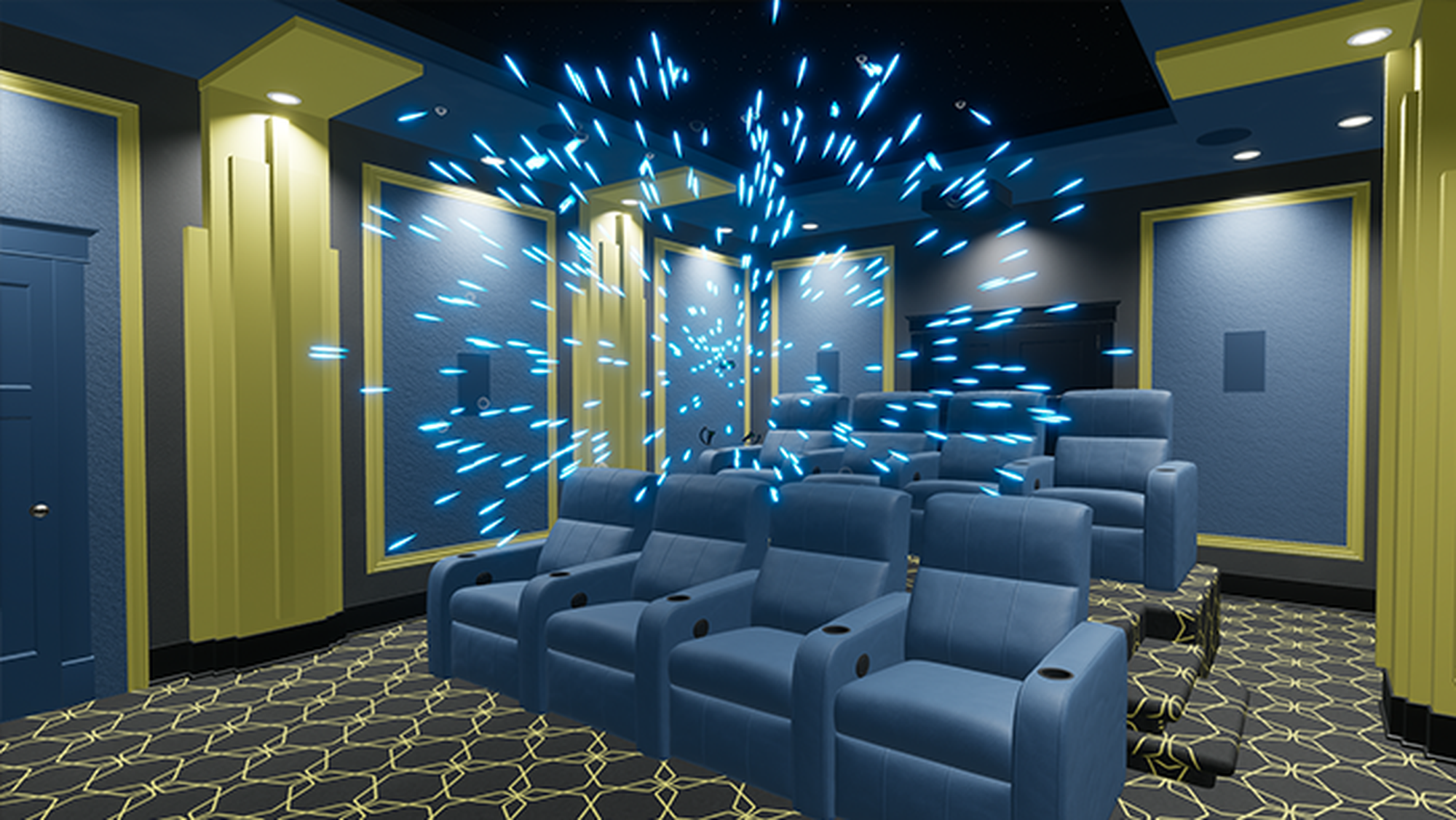 A USER FIRING A BURST — ROOM DESIGNED BY TYM SMART HOMES & HOME THEATERS
In the Teaching Assistants section of the Global Tab, select either Long Burst or Short Burst.

THE TEACHING ASSISTANTS SECTION IN THE GLOBAL TAB
A burst of particles, representing the energy of sound, appears just in front of you. These particles bounce around the room until they either run out of energy or hit an absorptive surface, like carpet or certain acoustic treatments.
Long Burst: has a maximum time limit of 40 seconds and allows particles to turn red if they've bounced too many times or have lived too long. The long burst is the preferred option in most scenarios.
Short Burst: has a maximum time limit of 20 seconds and never allows particles to turn red. The short burst is helpful in cases where the long burst isn't accurately showing the intended results from adding acoustic treatment. It should never be used to misrepresent results, but is helpful in cases where you need to ensure you're getting the point across effectively.
The speed and number of particles varies based on the size of the room. Large rooms will have more, faster-moving particles than smaller rooms.
Presenting to clients
When used appropriately, the reverberation assistant is fun and can be used to reinforce the importance of proper room treatment.
If room treatment has been ruled out for budgetary reasons, this assistant provides an opportunity to share budget-friendly strategies, like installing heavy drapes over windows. While these don't increase this project's value directly, you've demonstrated technical knowledge that gains trust, elevates you above the competition, and increases the likelihood of this client coming back with their next, higher-budget project in the future.
The following is an example of using this assistant with a client:
Start in a room that would have poor acoustics. If the client's space isn't sufficient, a great example is an empty room with a wood floor.
Introduce the topic by asking the client if they're familiar with the term "reverberation."
Explain the following: — Sound is energy. — This energy moves quickly and bounces off flat, hard surfaces. — While some bouncing is good, sound that lingers too long hurts clarity, making it difficult to understand critical details, like people speaking in movies or on conference calls.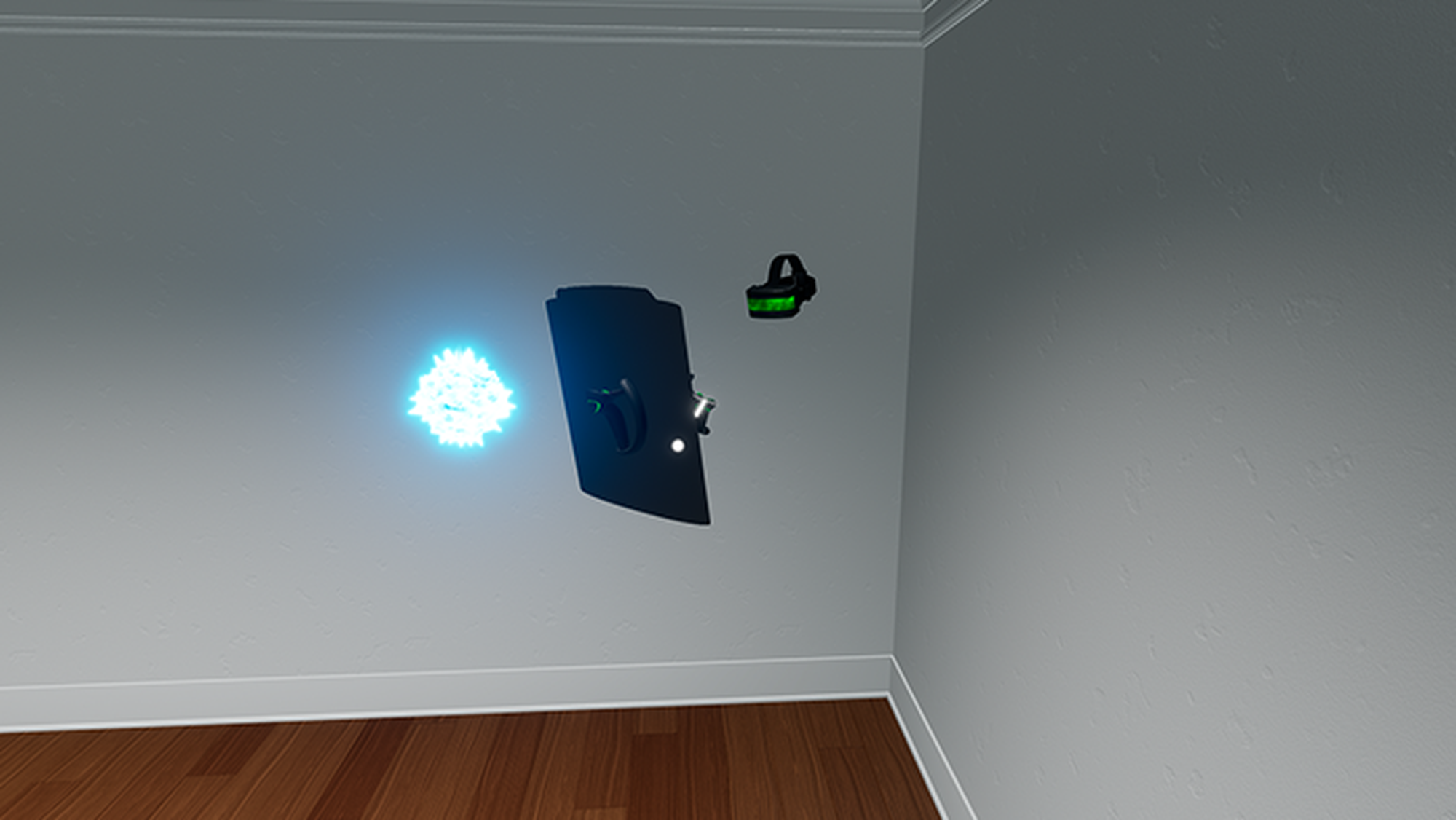 THIS ORB IS DISPLAYED WHILE THE REVERBERATION ASSISTANT RUNS CALCULATIONS IN THE BACKGROUND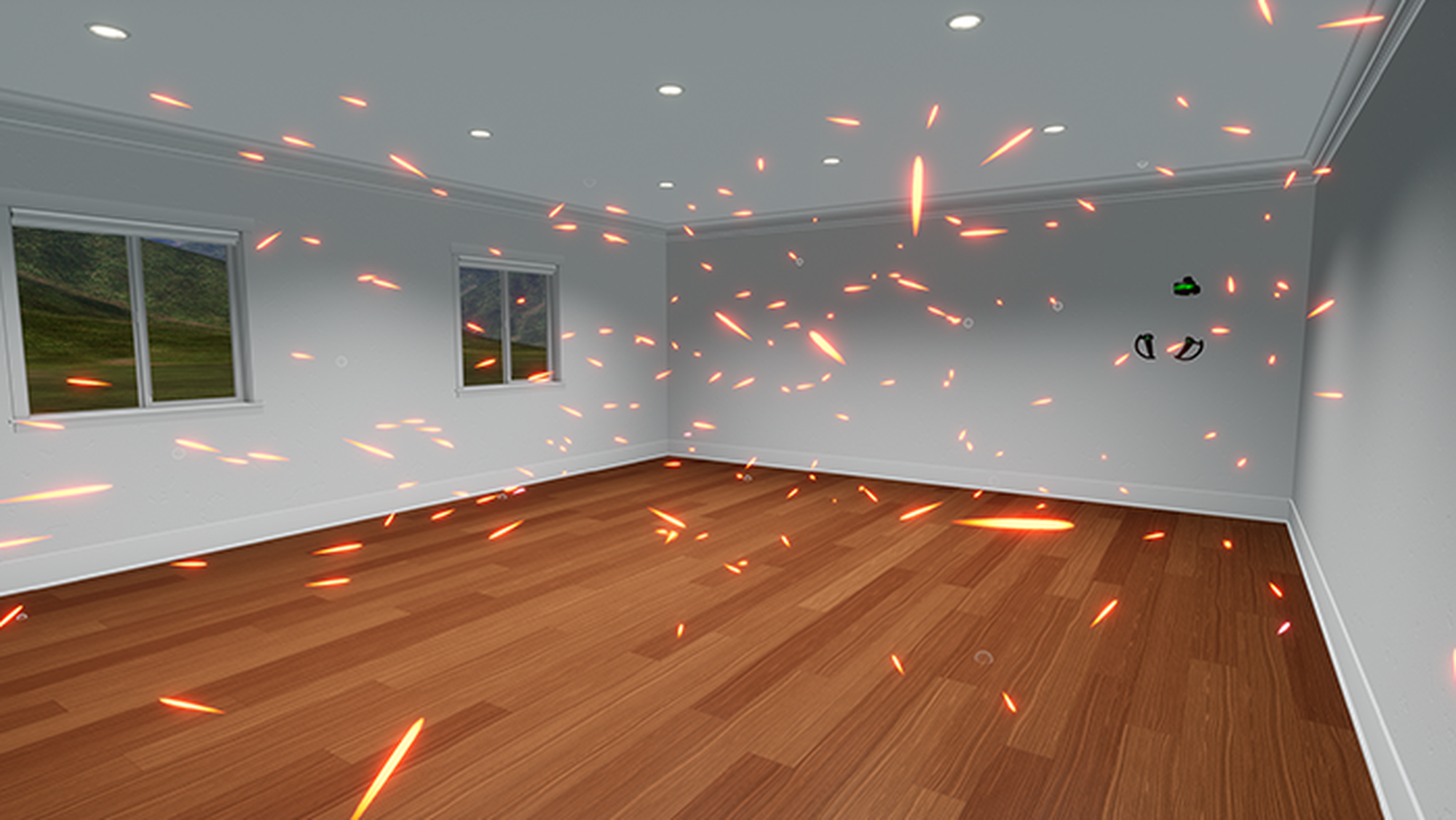 WHILE THE PARTICLES MOVE AROUND THE ROOM, REMIND THE CLIENT TO TAKE NOTE OF HOW MANY PARTICLES THERE ARE AND HOW LONG THEY'RE LASTING. REINFORCE THAT THE CHAOS THEY'RE SEEING HURTS PERFORMANCE OF EVEN THE BEST EQUIPMENT.
Next, load an alternate design of the same room with full acoustic treatment so the client can see an A|B comparison. Alternatively, you can make some high-impact changes to the existing room, like changing the floor to carpet, setting the walls to use the acoustic fabric material, or adding absorptive acoustic treatment.
Fire the burst again and point out the difference.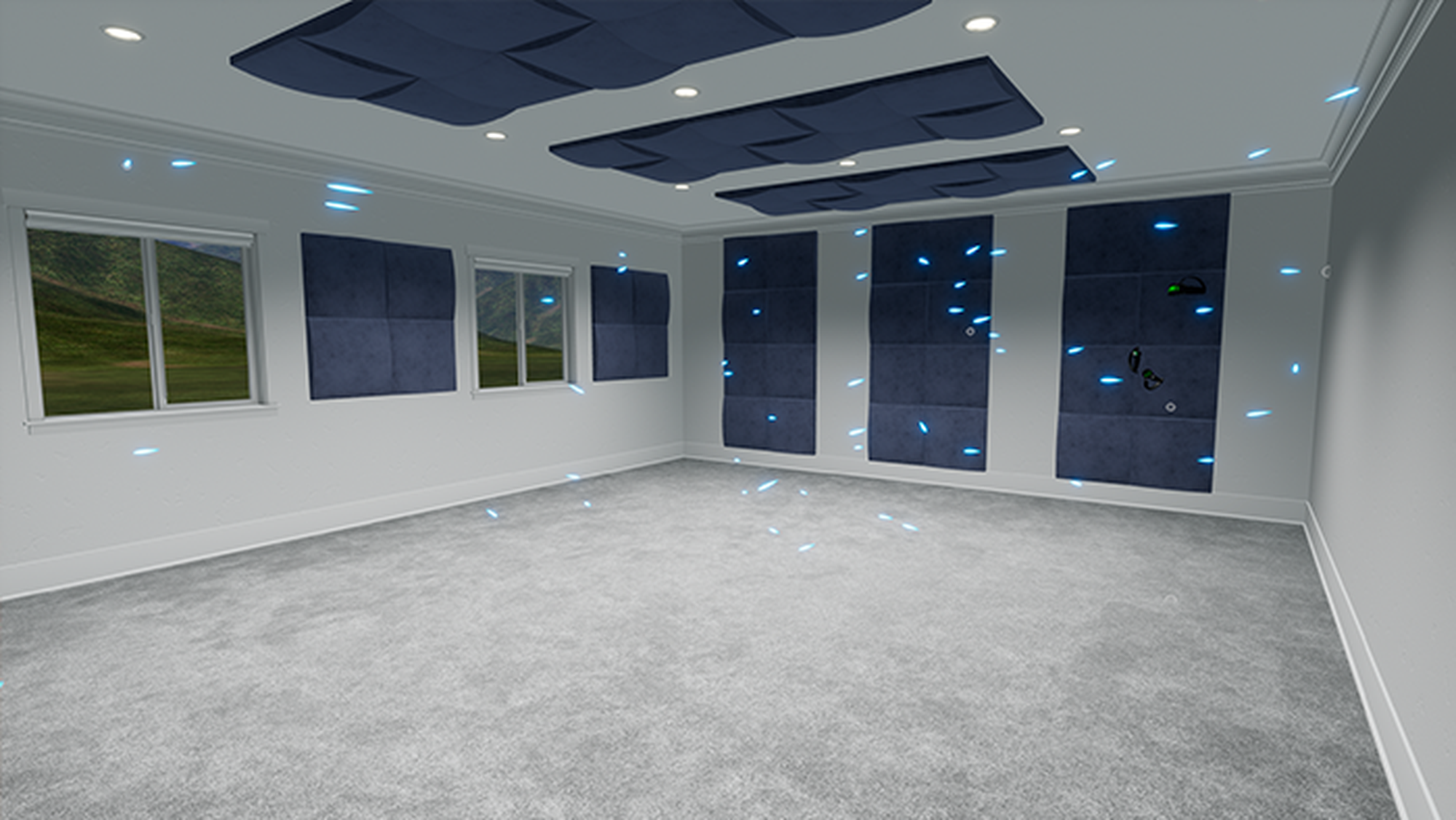 NOTE: IF YOU'VE MADE SIGNIFICANT CHANGES TO THE ACOUSTIC PROPERTIES OF THE ROOM AND THE LONG REVERBERATION BURST IS STILL INSUFFICIENT, THIS WOULD BE AN ACCEPTABLE SCENARIO TO USE THE SHORT BURST INSTEAD.
You can also watch our Commercial demo and Vicoustic demo to see how we've done A|B comparisons and spoken about reverberation.
Summary
The Reverberation Teaching Assistant is a fast and effective method for educating clients on the basic behavior of sound. We're excited to hear your feedback and success stories!