Modus VR November 2019 Update!
Modus VR continues to improve ways to better help educate your clients. Education is vital in helping them make correct decisions for their space and take full advantage of the services and expertise you provide. In this release we've updated and improved our Dolby Atmos Speaker Placement Assistant by adding more setup options, improving speaker placement accuracy, and adding additional visuals all in an effort to help with that education.
We've also added new models and materials to this release. Keep reading for everything that's new.
New: Dolby Atmos Speaker Placement Update
We created a new speaker placement assistant to replace the old one. It now supports legacy, non-Atmos surround setups all the way up to 11.1.8! Below is a quick snap shot of the options, but there's a whole lot more to it. You can find the full breakdown on how it works and how to take advantage of it in our Dolby Atmos Speaker Placement post.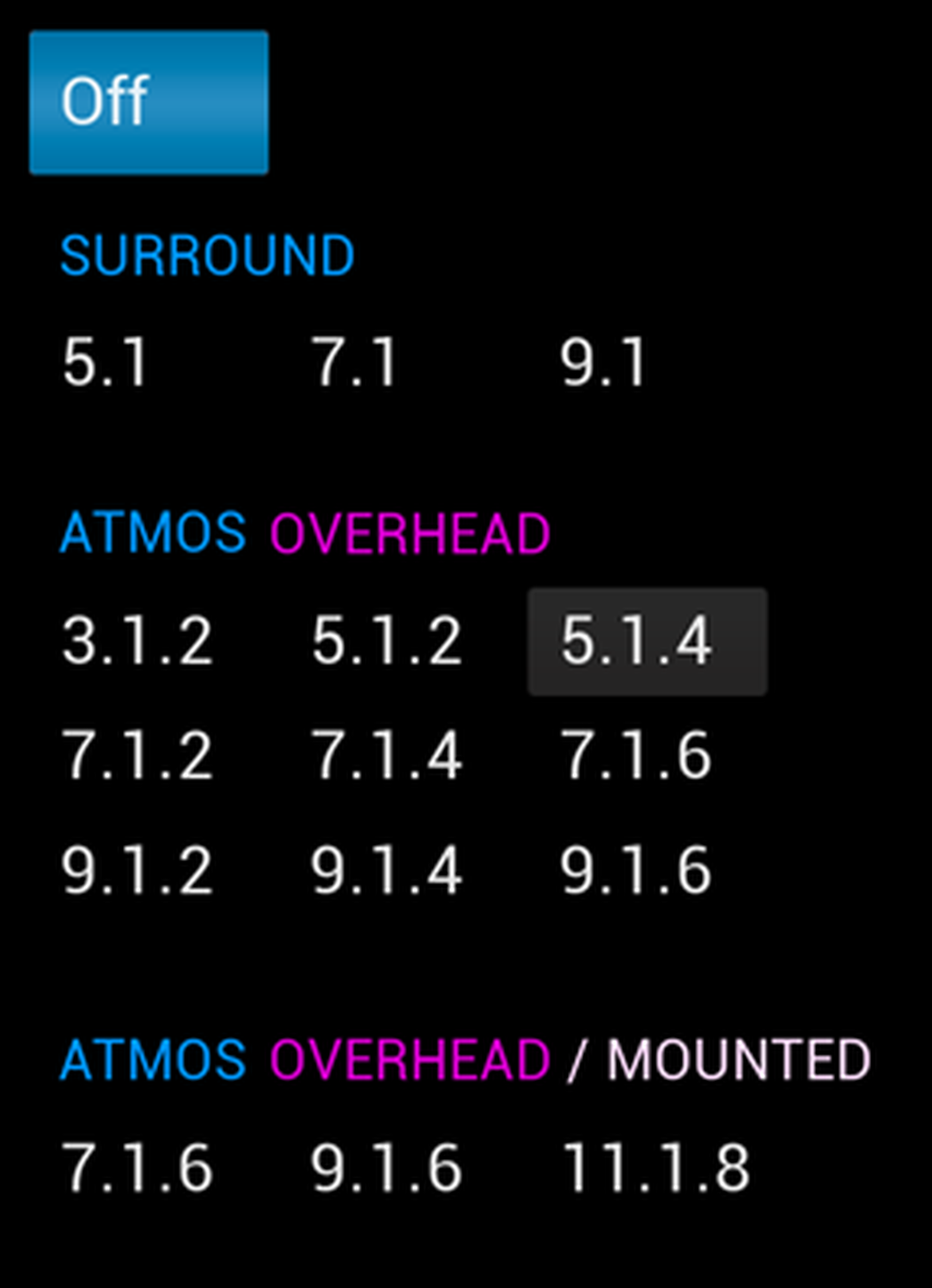 DOLBY SPEAKER PLACEMENT
New: Valve Index Support
We're excited to now support the new Valve Index HMD. The Index has lots of things that make it an excellent choice for a Modus VR headset. It features dual 1440×1600 LCD displays with a 130 degree field of view giving it one of the sharpest images in a VR headset we've tried. It also runs at a refresh rate of 90hz, 120hz or even 144hz making the VR experience a much more comfortable one allowing for longer VR sessions. There are lots more things to like about this headset including its comfortable fit, off ear speakers, and incredible tracking capabilities. You can take a deep dive in the specs here. If you have more questions about the headset please reach out to us!
Below is an image of the controls while using the Valve Index. Opening the menus is the same for any headset, but the buttons are slightly different.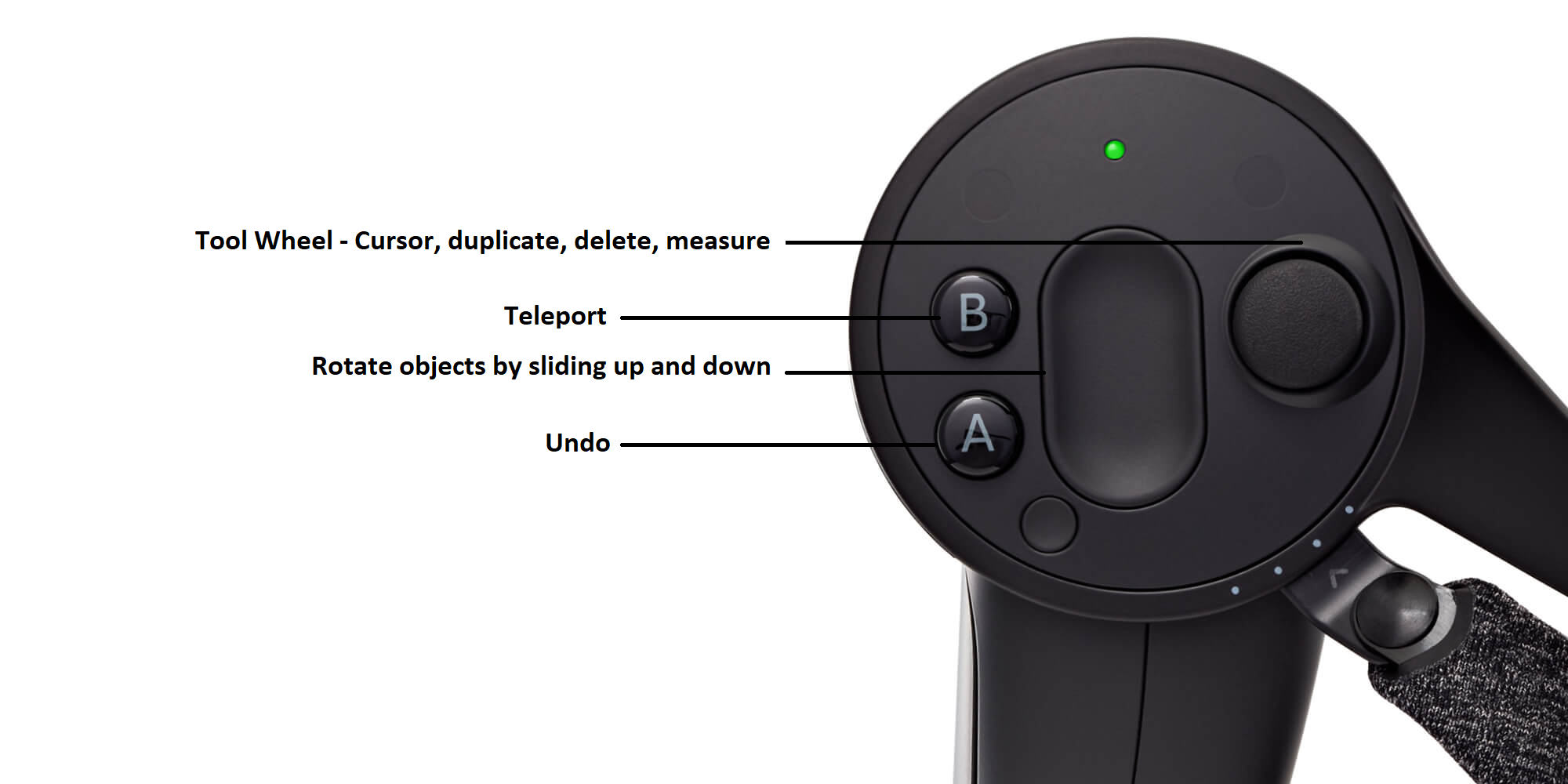 INDEX CONTROLLER GUIDE
New: Objects and Materials
Added 3 classic chairs: Series 7, Lance, and Ironica. These can make wonderful accent chairs and dining room chairs. We also added a bean bag chair that is perfect for front row seating. In addition to these models we introduce new materials for seats including Morrocan trellis (shown on the Lance chair) and fishbone (shown on the right bean bag) and added melamine as a material option for many hard-surface objects like tables.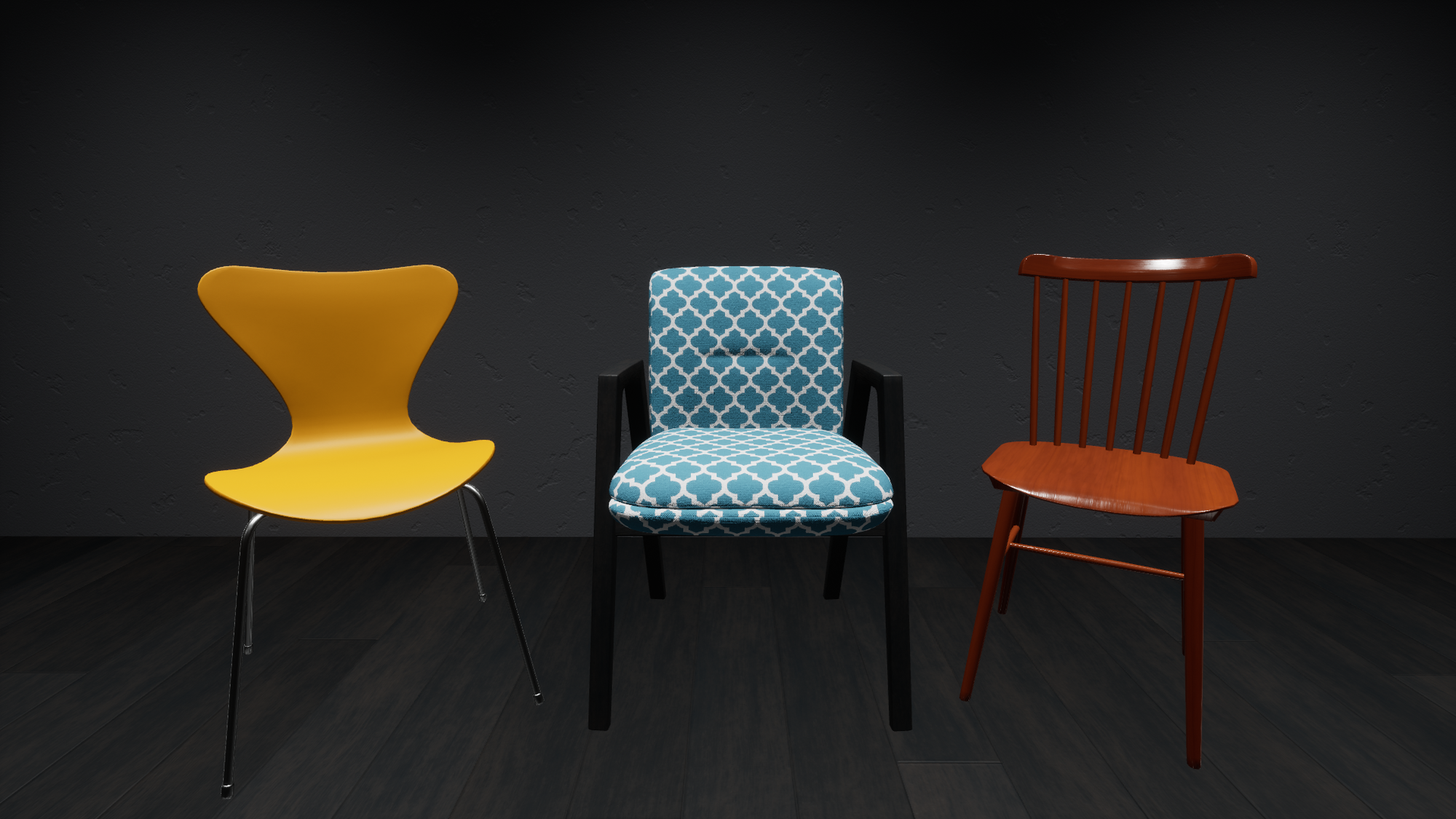 SERIES 7, LANCE, IRONICA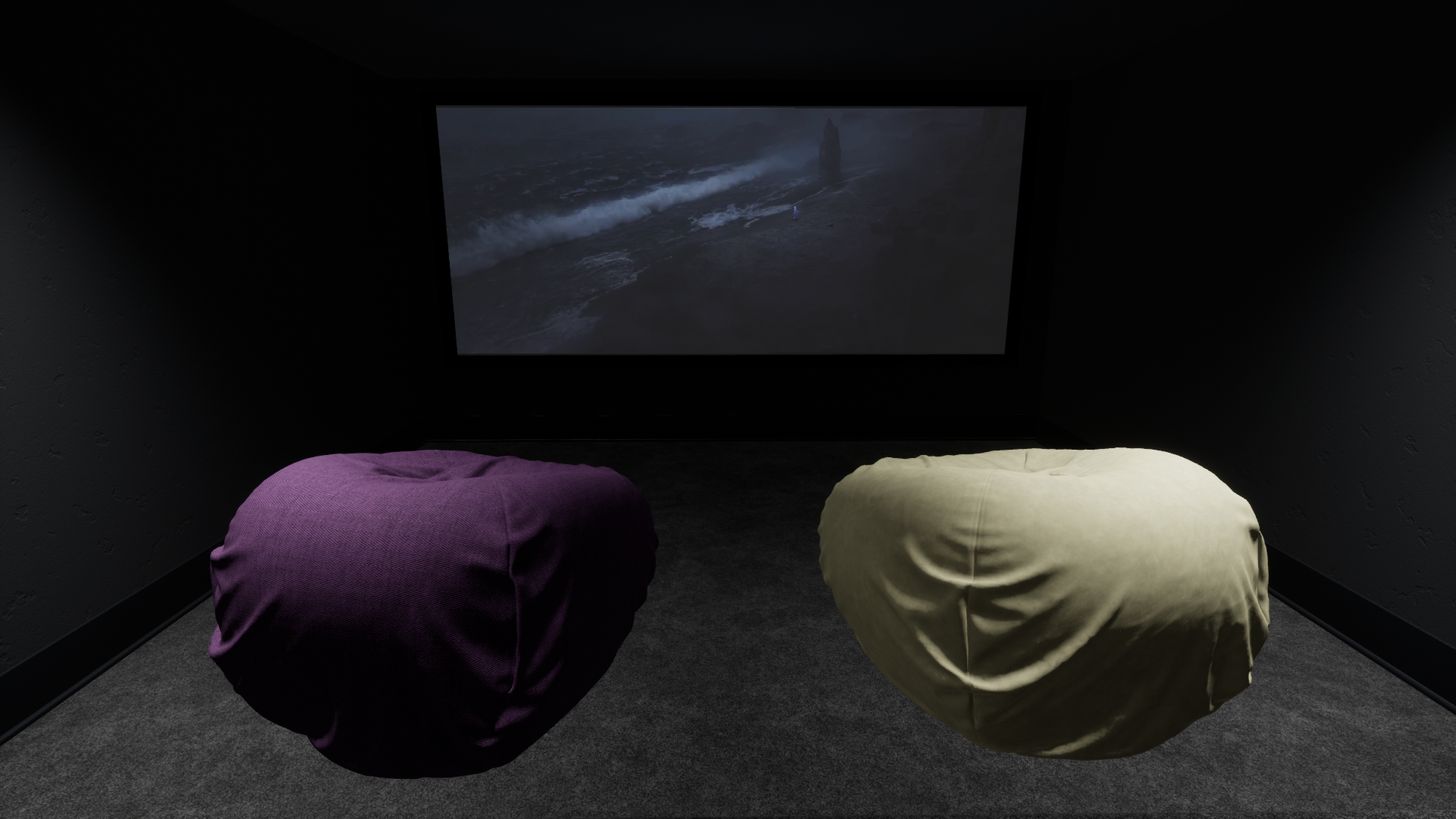 BEAN BAGS
New: Initial Support for Branding Automated Demos
We've had lots of requests from customers and non customers alike to be able to add their brand to an automated demo here we showed at CEDIA 2019. This demo is a seated experience that can be a quick and powerful way to show off what you're capable of. This can be especially helpful in places like trade shows or lobbies of your showroom when you may have too much traffic or not enough time to jump in VR with someone. Let us know if this is something you'd like to use.
Fixes:
Updated Windows Mixed Reality controller support so the lasers match the angle seen in Steam VR.
Greatly reduced jitter in the measuring tool's popup.
When a table is made particularly small its legs no longer shrink.
Melamine no longer ignores swatch selection.
Fixed an issue when saving the default room without using Save As.